Equipment Leasing Books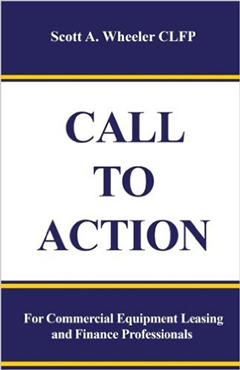 Scott A. Wheeler, CLFP, a thirty-four year veteran in the commercial equipment leasing and finance industry, has compiled his favorite sales tips into an easy-to-read format for veteran and novice commercial equipment leasing and finance professionals.
"'Call to Action,' 134 pages, is designed to assist individuals to think outside of their current comfort zone, to increase their productivity, and to enhance their personal value proposition," Scott Wheeler explains. "Each chapter in this book touches upon a significant area in the finance and leasing industry. The sales tips are followed by call to action exercises to stimulate group discussions and individual reflection.
"Professionals throughout the equipment finance and leasing industry will benefit greatly from using this book as a reference guide and workbook for self-improvement."
$19.95 at Amazon

A portion of each sale will be donated to the Chris Walker Educational Fund – dedicated to the education of professionals in the commercial equipment leasing and finance industry.
Scott is a well-known author for several leasing publications, including Leasing News, plus issues a weekly newsletter as well as conducts a school for training entrepreneurs to become independent leasing brokers.
Scott A. Wheeler, CLFP
Wheeler Business Consulting
1314 Marquis Ct.
Fallston, Maryland 21047
Phone: 410 877 0428
Fax: 410 877 8161
Email: scott@wheelerbusinessconsulting.com
Web: www.wheelerbusinessconsulting.com
Unstoppable: The Story of Asset-based Finance
and Leasing in Canada
Hugh Swandel, Senior Managing Director-Canada, The Alta Group, recommends "Unstoppable: The Story of Asset-based Finance and Leasing in Canada."
Published September 9, 2014 it is available in Kindle
at CDN$9.99 or Hardcover CDN$25.99.
http://www.amazon.ca/Unstoppable-Story-Asset-Based-Leasing-Canada/dp/0991741196/
"Unstoppable tells the previously untold story of a business that has grown to be the largest source of debt financing to Canadian consumers outside of the traditional bank loan. This book covers the rollercoaster ride of asset-based finance, now a $300 billion business, through interviews with business trailblazers such as Jim Pattison and Steve Hudson, who led the industry for the past half century. It is an entertaining and personal business history that will inspire both students of business history and entrepreneurs alike. Unstoppable shows how this form of finance helped to grow Canada's former industrial economy."


---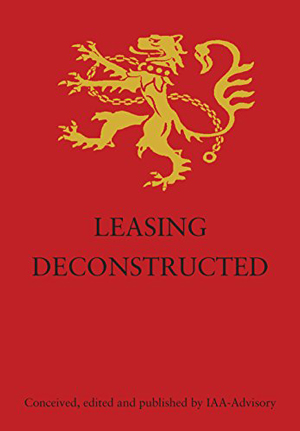 Written by a team from the IAA-Advisory Group in the United Kingdom. Chairman is Derek Soper.
"The book is handsome with 142 very readable pages. This book, mainly targeted at new entrants whether countries, sectors or individuals, examines the features of all the component parts of this business and explains each without the complication of local environments. This gives the reader the basic knowledge to grow the various financial products within their own jurisdiction and shape them to suit their customer's requirements."
Table of Contents
Preface
chapter one: The value of leasing and its impact on markets
chapter two: What is this thing called leasing?
chapter three: The commercial framework for leasing
chapter four: financial terms
chapter five: risk & Pricing
chapter six: Lease funding
chapter seven: Lease accounting
chapter eight: marketing financing
chapter nine: using services to add value & differentiate
chapter ten: What next?
It is easily available at $36.50 at Amazon:
https://www.amazon.com/Leasing-Deconstructed-IAA-Advisory-Limited-ebook
---
The Successful Equipment Lease Broker
by Joshua Fant (December, 2010)
He is a real estate broker in the Greater Seattle area.
He was a leasing broker from January, 1999 to August, 2005.
Book may be dated. 14 day return policy (also to their book store).

$39.95 Barnes & Noble
http://www.barnesandnoble.com/w/the-successful-equipment-lease-broker-inc-the-leasing-expert/1029662145?ean=9780974269108
Start Your Own Leasing Company!
By Paul Sutton (2014) 111 pages-Fourth edition.
Company appears to have a collection of "how to"
books. They have return policy for printed books only.
Book: $44.95 Download $19.46
https://www.businessbooksource.com//books/274/start-leasing-company.cfm
The Certified Lease & Finance Professionals' Handbook
Authored by Certified Lease & Finance Professionals
Raising the standards of the Equipment Leasing and Financing Industry through continued education, testing and conduct.
Edition: 4 (Feb 04, 2015) $59.96
https://www.createspace.com/5290967

Equipment Leasing
Publisher: Matthew Bender
Three Volume Set; loose leaf; updated with revisions
Updated Yearly
$1,333 Print
$1,177 eBook
(with yearly up-date savings plan)
http://www.lexisnexis.com/store/catalog/booktemplate
/productdetail.jsp?pageName=relatedProducts&catId=167&prodId=10538