End of 2011 Year Up-date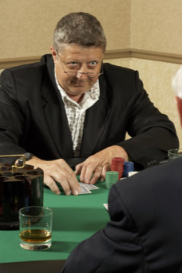 This came from Don Blody, now at Madison Capital, questioning tax returns and a search by Leasing News discovered the Greyhound fraud connection.
The various cases involving Sheldon Player and Equipment Acquisition Finance continue, and while his estranged wife Dorothy Malone has declared bankruptcy, he has not, and a recent event regarding gambling debts, winnings, have resulted in another case involving the IRS and the trustee regarding amounts paid that the trustee considers overpayment and due the creditors of the bankruptcy.
In the meantime, Player is still a player. There are casinos in Nevada where Sheldon Player is still able to play from Winnemucca to Wendover, Nevada and others, but perhaps not Las Vegas as the Equipment Acquisition Resource Bankruptcy Trustee is seeking money from various casinos when he gambled.
The trustees are still seeking $1.785 million from Wynn casinos, $471,000 from the Rio, $236,500 from the Luxor, and $30,000 from Harrah's.
Equipment Acquisition Resources from October 2005 to October 2009 sent 21 checks to Wynn totaling almost $1.8 million so Player, Malone, Anstett or others personally could allegedly engage in gambling and gaming activities at one or more of the Wynn casinos. Wynn attorneys claim the money was not the property of Equipment Acquisition Resources, but rather was compensation to its executives Player, Malone and Anstett.
There are other casinos, according to court documents, $4.3 million in payments to the Horseshoe Casino in Hammond, Ind., $584,000 in payments to the Ameristar Casino in East Chicago, Ind., and $30,000 to the Palms hotel-casino in Las Vegas. That Sheldon is still playing may be verified when the FBI picked him up for questioning at the Denver, Colorado airport and he had just returned by private Casino plan with $900,000 cash in a large duffle bag.
In the company bankruptcy proceedings whatever equipment existed has been sold, as well as rooms of equipment in various stages also deposed. Those who were asked to take a bid describe it as equipment on top of equipment with dirt and dust everywhere. And while there are some open ends, the IRS case seems to be the major event.
The FBI has not filed a case, although Player has served time in jail for the Greyhound fraud, and also be on probation. Readers ask why ex-con Player is not in jail, and is out spending money, enjoying life.
Evidently he knows how to play his cards, as the story about his actions began in Leasing News May 2, 2007.