Exp. Account Executive
Salt Lake City, Utah
Intermediaries--Background in sales/leasing and/or finance required/credit experience preferred. Salary plus commission. Fax resume: 801-733-2363 or email: clong@acccapital.com


Wednesday, June 14, 2006
National Flag Day
(please see Calendar events, click here)
Headlines---
Classified Ads---Internet locations
More info: "Fee" Class Action Lawsuits
SEC Launches New Search Tool
Romoff's Key Sales Person Leaves
Sales Makes it Happen---by Steve Chriest
"6% of Time Spent Selling"
Classified Ads---Help Wanted
Cartoon---Gahan Wilson
FASB Unwilling to Kill Contentious Rules
Direct Capital Expands Debt Financing
PredictiveMetrics Releases ScoreMiner
Willis Lease Satisfies NASDAQ
NetSol $500,000 Real Estate Program
IDS and American Lease Insurance
Lessors Network confirms Oracle at Conf
Leasing Software Companies List:Up-Date
News Briefs---
You May have Missed---
Sports Briefs---
"Gimme that Wine"
Restaurant Review-- Lincoln Court , Carmel
Calendar Events
Today's Top Event in History
This Day in American History
Baseball Poem
SuDoku Puzzle
######## surrounding the article denotes it is a "press release"
Constant Contact: Our regular web master who posts the daily editions is on vacation, so please excuse the previous edition. Several reported it would not open, while others had no difficulty with the "Constant Contact" e-mail.
If this edition does not open, you may go direct to: www.leasingnews.org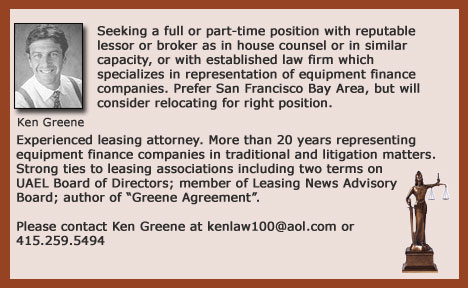 -------------------------------------------------------------------------------

Classified Ads---Internet locations

San Francisco , California ---Herb Caen Day*
www.adams-inc.com
www.affinitysearch.com
www.bajobs.com
www.BayJobs.com
www.careerbank.com
www.careerpath.com
www.craigslist.org (available in many cities now, use scroll feature)
www.elaonline.com
www.goldenparachute.com
www.Headhunter.net
www.hotjobs.com
www.jobs.net
www.jobsearchusa.org
www.JobSpin.com
www.jobsinthemoney.com
www.lessors.com
www.MarketingJobs.com
www.monitordaily.com
www.monster.com
www.Postonce.com
www.RecruiterConnection.com
www.resumeblaster.com
www.vault.com
www.vetjobs.com
www.worktree.com
For a full listing of all "job wanted" ads, please go to:
http://64.125.68.91/AL/LeasingNews/JobPostings.htm
To place a free "job wanted" ad, please go to:
http://64.125.68.91/AL/LeasingNews/PostingForm.asp
Herb Caen Day story:
http://www.sfgate.com/cgi-bin/article.cgi?file=/g/a/1996/06/14/ellar960614.DTL
* Golden Gate Panorama 503-625-7937
Available in:17.5x48 inches 21x57 inches 24x66 inches 11x31 inches 15x42 inches 24x20;24x16;24x20 28x23;28x19;28x23 34x28;34x24;34x28 16x36 frame 21x48 frame
*First price = wall print framed in Brushed Aluminum; 2nd price=wall print framed in wood of your choosing. Also available on flat or float board; the resulting framed images are slightly larger than print size. http://www.strengthinperspective.com/zzzcloser/ALLpans/panSanFran.htm
----------------------------------------------------------------

More info on "Fee" Class Action Lawsuits
by Christopher Menkin
Right now the "Class Action Attorneys" have ear-marked the large small ticked lessors, who most likely have not made any disclosures regarding the "handling fees" or " profits" in insurance coverage, UCC filings, or documentation, which are being labeled "garbage fees" or "profits not disclosed to customers." You can be sure those with 10,000 leases will be hit, and perhaps once the milk run is made, next will be Financial Pacific, Marlin, Pawnee, just to name a few. In reality, they may have been served already, as few of the leasing companies Leasing News had contacted are willing to share information..
As the class action attorneys are winning these cases, they are learning about other items in the unlicensed business of equipment financing.
Citicapital, De Lang Landen, GE Capital, and Pitney Bowes class action complaints and settlement documents, and the DLL settlement document (the first case brought and settled regarding lease insurance) follow this story. These were all obtained from the various courts and are public documents.
http://www.leasingnews.org/PDF/Citicorp_6th_Complaint.pdf
http://www.leasingnews.org/PDF/Citicorp_Settlement.pdf
http://www.leasingnews.org/PDF/De_Lage_Settlement.pdf
http://www.leasingnews.org/PDF/GE_Case_Clean.pdf
http://www.leasingnews.org/PDF/GE_Settlement.pdf
http://www.leasingnews.org/PDF/PB_Settlement.pdf
http://www.leasingnews.org/PDF/PB_Third_Complaint.pdf
----------------------------------------------------------------

SEC Launches New Search Tool
More than a million corporate and mutual fund reports are now available and fully searchable via the SEC's new online EDGAR database.
Investors and analysts can search the full text of every SEC document filed by companies within the last two years to quickly and easily identify and retrieve mutual fund filings by fund or share class.
http://www.sec.gov/edgar/searchedgar/webusers.htm
----------------------------------------------------------------

Romoff's Key Sales Person Leaves
Jean Cutting is one of the first to leave ICB Leasing Corp., which was merged into Sovereign Leasing. Almost 30 employees, in operations and sales, are moving or looking elsewhere, some have been let go.
Cutting was senior indirect originator at ICB, where she was responsible for purchasing middle-market leases and loans from independent lessors and bank leasing companies. Prior to that, she worked in various capacities for Bank of America Leasing, IBJ Schroder Leasing, and American Brands, Inc. In total, Cutting has 22 years of experience in the equipment finance industry.
U.S.Bank Equipment Finance grabbed her in a hurry, naming Ms. Cutting "vice president and sales associate" for third party finance, a specialty unit within the vendor finance group. U.S. Bank Equipment in a press release said, "Cutting is responsible for finding, building and managing funding relationships with independent and small bank-owned leasing companies as well as intermediaries in the eastern region. "
Originally working in New York City , she now is located in New Jersey .
"We're very pleased to have Jean join third party finance. She's a significant addition to this team, bringing with her years of experience and a wide range of existing business contacts," said Ed Cipro, vice president and managing director of third party finance and capital markets finance at U.S. Bank Equipment Finance.
She is a graduate of St. John's University , Staten Island , N.Y. Cutting resides in Morris County, N.J., with her husband and two teenage sons.
U.S. Bank Equipment Finance, one of the largest bank-affiliated equipment finance companies in the nation, has been providing quality equipment finance solutions for 35 years. It's a major funding source for companies in virtually every industry sector nationwide. Visit U.S. Bank Equipment Finance on the web at www.usbank.com/leasing.
U.S. Bank Equipment Finance is part of U.S. Bancorp (NYSE: USB). With assets of $210 billion, is the 6th largest financial holding company in the United States . The company operates 2,430 banking offices and 4,941 ATMs, and provides a comprehensive line of banking, brokerage, insurance, investment, mortgage, trust and payment services products to consumers, businesses and institutions.
----------------------------------------------------------------

Sales Makes it Happen---by Steve Chriest
"6% of Time Spent Selling"
Keeping the main activities of sales in mind - prospecting, qualifying, facilitating orders, closing business, maintaining customer relationships, and reporting activities to management – should help salespeople and managers prioritize and allocate selling time. Does anyone really need a time management class to tell them to do essential selling activities and stop doing everything else during selling hours?
Whether a salesperson prospects as a "hunter," or is continually on the lookout for additional opportunities to do more business with existing customers, prospecting for business is the second most important activity for all salespeople.
Why? Without a constant flow of new prospects, or new prospective business from existing customers, a sales pipeline or funnel quickly runs dry.
As business from a number of prospects and customers begins to move through the salesperson's pipeline, time must be spent facilitating activities that cause that business to move toward closing. It's here that salespeople waste most of their time. Whether the salesperson is at fault, or whether operational inefficiencies make it necessary for salespeople to baby-sit order processing, this activity robs many salespeople of precious selling time.
Salespeople must spend some time cultivating and growing their relationships with customers. This essential activity can take many forms, from regular visits to the customer's place of business, researching solutions to customer challenges, to arranging entertainment events like business lunches and dinners, sporting events and so on.
Not surprisingly, effective time management is a challenge for many salespeople and sales managers. What is surprising is how much time and money is spent by sales organizations desperate to teach their sales teams how to spend their work time wisely and efficiently. Even a cursory look at the essential activities of salespeople reveals all you need to know about time management for the sales team.
For most salespeople, there are only six essential tasks for which they are responsible – prospecting, qualifying, facilitating orders, closing business, maintaining customer relationships, and reporting activities to management. With the exception of continuing education, a salesperson can plan his or her days, weeks, months and years around these essential activities. The trick is to exclude as many activities as possible that do not impact at least one of these essential tasks.
A major sales consulting firm estimates that most salespeople spend no more than six percent (6%) of their available working hours talking to prospects and customers in person or on the phone about whether the customer or prospect wants to grow their business or fix a problem in the business.
Finally, as bitter a pill as it is for salespeople to swallow, some time must be spent reporting activities and the results of activities to sales management. After all, if sales managers did not receive reports from their team, what on earth would they do with their time? But seriously, management should always require reports from the sales team, not for the purposes of micromanagement, but for the value of the intelligence to be gained from feedback reported by the sales team.
Note: This Friday Mr. Chriest will examine the role of the sales manager as coach, and we will explore how sales managers might go from good, to great, to extraordinary coaches of their sales teams.
Copyright © 2006 Selling Up TM . All Rights Reserved.
About the author: Steve Chriest is the founder of Selling Up TM (www.selling-up.com), a sales consulting firm specializing in sales improvement for organizations of all types and sizes in a variety of industries. He is also the author of Selling Up , The Proven System for Reaching and Selling Senior Executives. You can reach Steve at schriest@selling-up.com .
----------------------------------------------------------------

Classified Ads---Help Wanted
Account Executive

Exp. Account Executive
Salt Lake City, Utah
Intermediaries--Background in sales/leasing and/or finance required/credit experience preferred. Salary plus commission. Fax resume: 801-733-2363 or email: clong@acccapital.com


Jr. Analyst
Credit Analyst
Sausalito, CA
To start, $45M-60M per year depending upon experience and qualifications, small office in great community, work w/seasoned
professional; Banking or financial or leasing background required, opportunity to increase skills and knowledge: call Steve Pickens at 415-331-1725

Operations Manager

Operations Manager for growing equipment leasing/broker services co. in Costa Mesa, CA to oversee syndication, docs, & credit functions. Prior leasing experience pref. Salary with benefits. Send resume to: Sarah@Podiumfinancial.com

VP-Manager of Equipment Lease Division
----------------------------------------------------------------

----------------------------------------------------------------

FASB Unwilling to Kill Contentious Rules
ABSnet
The Financial Accounting Standards Board decided to rework some proposed changes to FAS 140, the principal set of accounting rules for securitizations in the U.S.
The move defeated a call by board chairman Robert Herz and members George Batavick and Leslie Seidman to scrap the planned revisions altogether and concentrate on replacing the entire set of guidelines.
At issue is a so-called exposure draft from FASB outlining suggested revisions to FAS 140 procedures for "transfers of financial assets." In the end, the board instructed its staff to work on modifying some of those changes, which have drawn widespread criticism from securitization professionals.
However, the board refused to reconsider a few issues that industry players had hoped it would take up. It will discuss the matter again on June 28.
One of the main areas of contention is a section that covers how much a company involved in an asset-backed transaction stands to benefit from the deal. Market players complain that FASB's suggestions are too vague, and even the board's seven members disagree about how companies that retain some connection to their securitized assets would be treated under the amended rule.
The idea behind revising FAS 140 in the first place was to improve reporting requirements for companies involved in securitizations, reduce the complexity of the rules and bring them in line with evolving accounting standards in Europe .
But the current proposal only supports existing practices and "fails to simplify anything," Herz said.
FAS 140 has drawn heavy fire since 2001, when it replaced FAS 125. Questions about how to interpret FASB rules usually taper off over time, but FAS 140 still generates "almost nonstop requests for clarification," project manager Pat Donoghue said.
In fact, inquiries about FAS 140 have actually increased and become more complex over the last two years.
Hence, the defeated call to replace the rules with an entirely new set of guidelines.
Herz, Batavick and Seidman endorsed a suggestion by Donoghue to launch a research project that would pave the way for such a move. "I'm not confident that we're going to be able to improve 140," Batavick said. "Every time we suggest a change, it leads to a different implementation problem."
FASB members Katherine Schipper, Edward Trott and Donald Young also voiced support for replacing FAS 140.
In the meantime, however, they want to keep working on the changes already on the table. Board member G. Michael Crooch, who couldn't attend the Norwalk , Conn. , meeting, also told Herz that he's in favor of making possible changes to the proposed revisions.
"I don't believe we can leave these questions unanswered," Trott said.
The exposure draft that FASB is currently discussing was among three proposals for changing FAS 140 that FASB introduced in August. The two others, which the board approved in February and March, take effect on Sept. 15.
One of those rules, called FAS 156, covers loan servicers.
The other, FAS 155, governs how certain types of derivative instruments are treated in securitizations. It also amends accounting practices under the separate FAS 133.
---------------------------------------------------------------
### Press Release ###########################

Direct Capital Expands Debt Financing
Portsmouth , NH – Direct Capital Corporation recently closed a $20 million warehouse facility and expanded its lease-backed commercial paper conduit securitization transaction to $100 million. The warehouse is agented by National City Bank; the securitization program is agented by DZ Bank AG Deutsche Zentral-Genossenschaftsbank.
(February,2005 it was $50 million:
http://www.leasingnews.org/archives/February%202005/02-11-05.htm#direct )
The completion of these transactions supports Direct Capital's continued growth and expansion across the U.S. "The closing of these transactions is further evidence of the success of Direct Capital's focused strategy to bring simple, fast and cost effective capital to businesses across the U.S. " commented Christopher Broom, Direct Capital Chairman. Christos Kytzidis, Senior Vice President, National City Bank noted, "We have followed Direct Capital for several years. The Company has built a very strong management team, superior origination and servicing infrastructure and most recently an enhanced funding platform – all which will enable it to deliver strong financial results. We have analyzed the Company's strategy, and we are very excited about the opportunity to become its strategic partner." Daniel Marino, First Vice President of DZ Bank's Asset Securitization Group, added, "Direct Capital is a recognized leader in the leasing industry. We are pleased to grow with them as we continue our long and prosperous relationship."
Established in 1993, Direct Capital provides equipment and technology finance solutions to businesses nationwide. The company markets its services through direct relationships with equipment purchasers and through partnerships with vendors, dealers, and manufacturers of capital equipment. Superb execution on its exceptional and unique service delivery model is the cornerstone of Direct Capital's success in an increasingly commoditized financial services industry. Direct Capital recently expanded its product offering to include a wide variety of mortgage products with its acquisition of Direct Mortgage Services, Inc. and establishment of Direct Capital Settlement Services, Inc. Direct Capital has over 200 employees and is headquartered in Portsmouth, NH with satellite offices in AZ, NY, NH, HI, CT and FL.
DZ Bank's Asset Securitization Group offers structured asset and receivables financing for a wide variety of clients and asset types. ASG's unique financing programs are tailored to satisfy a company's capital needs through various forms of execution, including asset-backed commercial paper programs funded through DZ Bank's multi-seller commercial paper conduit, Autobahn Funding Company, LLC; and term note securitizations, placed through DZ Bank's broker-dealer, DZ Financial Markets LLC. ASG has successfully executed approximately $5.7 billion of transactions since its inception at DZ Bank in April 1999.
National City Corporation (NYSE: NCC), headquartered in Cleveland , Ohio , is one of the nation's largest financial holding companies. The company operates through an extensive banking network primarily in Ohio , Illinois , Indiana , Kentucky , Michigan , Missouri and Pennsylvania , and also serves customers in selected markets nationally. Nationally, its core businesses include specialized lending to leasing companies, specifically general equipment and transportation lessors.
For more information, contact:
Bob Sweeney, Executive Vice President – CFO Direct Capital Corporation
Ph: 603-433-9450
E: bsweeney@directcapital.com
Dawn Gillette, Vice President - Finance
Direct Capital Corporation
Ph: 603-433-9419
E: dgillette@directcapital.com
Sites of Reference:
http://www.directcapital.com
http://www.directcapitalmtg.com
CONTACT:
Robyn Gault
Direct Capital Corp.
Phone Number: 603 433-9413
Fax Number: 603 766-8435
E-mail: rgault@directcapital.com
### Press Release ###########################

PredictiveMetrics Releases ScoreMinerSM,
A Web-Based Credit Scoring and Data Mining Application
TINTON FALLS , N.J. –– PredictiveMetrics™? (PMI) the leading provider of accounts receivable based predictive scoring solutions, today announced the successful launch of ScoreMinerSM, at NACM's 110th Credit Congress & Exposition recently held in Nashville, TN. ScoreMinerSM is PMI's new web-based credit scoring and data mining application that leverages the predictive power of PMI's Net30Score model output. PMI developed ScoreMiner to provide clients with a more flexible and viable platform for receiving, reviewing and analyzing information to group accounts based upon the credit or collection manager's criteria for implementing strategies worldwide.
Net30Score™, PMI's leading commercial product, quickly and accurately predicts the likelihood that an existing customer will become severely delinquent, go to loss, or file for bankruptcy within six months of the date the customer was scored. Net30Score is used for credit authorizations, credit line management, and for the development of optimal risk based collection strategies.
Requiring minimal IT support, ScoreMiner provides a simple but robust way to measure credit and collection performance for an entire portfolio, a subset, or on an individual account basis and provides detailed information and graphical analysis by risk class and credit risk change over time. ScoreMiner also has the capability to determine how every analyst, collector, or sales personnel's accounts are performing relative to their peers and risk level. Another benefit noted by NACM attendees was ScoreMiner is a hosted web application, requiring no software to implement saving significant time and money.
"ScoreMinerSM meets our clients demand to have an easy to use dynamic web-based decision engine that allows them to easily access our statistical scores on their customers" said Michael Banasiak, president of PredictiveMetrics, Inc. "Our goal was to provide our clients with a way to take the intangible aspects of predictive commercial scoring and turn it into tangible, action driven applications by having the ability to analyze and compare and have reporting on the outputs of PMI's statistical models, for improved risk management."
Score Miner complements PredictiveMetrics' Net30Score. Other PredictiveMetrics' scoring products include UtilityScore™ for Collections, UltraRecovery™ Score, and DebtBuyerScore™.
About PredictiveMetrics
Founded in 1995, PredictiveMetrics, Inc. (PMI) is the leading provider of accounts receivable based predictive scoring solutions using advanced statistical techniques worldwide. PMI was established to provide better-quality analytics and predictive scoring solutions in a customer oriented environment. Our customer focus is to work with our clients to create a strategic relationship ensuring customers' resources are optimally utilized to make automated, knowledge-based, profitable decisions that are proven accurate through statistical validation. PMI has developed proprietary software systems and state-of-the-art hardware that is designed specifically to conduct vigorous and sophisticated analytics coupled with our innovative, advanced statistical techniques. By using our customers business expertise combined with our data, modeling, and resource capabilities, PMI provides extremely powerful solutions for companies worldwide. Major clients include several divisions of GE Capital, IBM, Florida Power & Light, BlueTarp Financial, De Lage Landen, Wright Express, West Asset Management, NCC Commonwealth , Jacobus Energy, and Agricore. PMI competes in the commercial credit scoring arena with premier companies such as D&B (NYSE:DNB), MoodysKMV (NYSE:MCO) and Fair Issac (NASDQ:FIC). PMI is a privately-held corporation that is self-funded through the profits of the company and headquartered in Tinton Falls , NJ . For more information, please visit www.predictivemetrics.com or call 732-530-9303.
Contact: Eileen O'Hare
Assistant Vice President, Marketing
PredictiveMetrics, Inc.
732 530 9303 ext. 101
eohare@predictivemetrics.com
### Press Release ###########################

Willis Lease Satisfies NASDAQ Listing Requirement
SAUSALITO, CA – —Willis Lease Finance Corporation (NASDAQ: WLFC), a leading lessor of commercial jet engines, today reported it was notified by Nasdaq that it has complied with Market Rule 4350(d)2 with the appointment by the Board of Directors of Hans Jörg Hunziker to its Audit Committee, filling the vacancy created when former Director Glenn L. Hickerson chose not to stand for re-election to the Company's Board of Directors. Mr. Hunziker will become the third member of the Company's Audit Committee, as required by Nasdaq in Marketplace Rule 4350.
Mr. Hunziker was elected to the Company's Board of Directors at its Annual Meeting on May 25, 2006. He previously served on the Willis Lease Board of Directors from 2000 to 2002 and returned to service again this year. Formerly the President and Chief Executive Officer of Flightlease AG Ltd. and Chief Financial Officer of SAirServices Ltd., he has over 30 years of experience in the aviation industry. Mr. Hunziker holds a Masters degree in economics and business administration from the University of Zurich and holds the equivalent of a doctoral degree from the University of Zurich .
About Willis Lease Finance
Willis Lease Finance Corporation leases spare commercial aircraft engines, rotable parts and aircraft to commercial airlines, aircraft engine manufacturers and overhaul/repair facilities worldwide. These leasing activities are integrated with the purchase and resale of used and refurbished commercial aircraft engines.
### Press Release ###########################

NETSOL TECHNOLOGIES INKS NEW $500,000 OFFICE AUTOMATION
CONTRACT FOR REAL ESTATE INDUSTRY LEADER
Company Expands into New Burgeoning Sectors in Pakistan
CALABASAS, CA – – NetSol Technologies, Inc. (NASDAQ:NTWK), a developer of proprietary software applications and provider of information technology (IT) services, today announced that its Lahore, Pakistan subsidiary, NetSol Technologies, Ltd., has been awarded a new $500,000 enterprise-wide software development and IT consulting project with Pakistan's leading real estate and property management authority.
"We are pleased to announce our first office automation project in what is fast becoming one of the hottest growth sectors in Pakistan," commented NetSol Technologies Ltd. CEO Salim Ghauri. "Our experience and expertise in developing robust, user friendly, web-based office automation projects was a perfect fit for the customer's forward thinking approach to improving infrastructure and functionality of its modern housing and real estate brand. We look forward to working closely with its engineering and marketing teams to improve efficiency and streamline information management as we roll out across the enterprise and to its more than 50,000 residential end users."
Under the terms of the agreement, NetSol will provide the following software and services:
-- Delivery of business process reengineering (BRP) services and related office automation solutions for key areas of the business, including financial, engineering, maintenance, and land record management;
-- Integration of Open Source solutions, along with off-the-shelf ERP packages by third party vendors including Microsoft and Oracle;
-- Design and implementation of web-based community services and electronic interfaces for customer base of more than 50,000 residents;
-- Analysis, testing and implementation of an integrated MIS system;
-- Design, layout and execution of client's enterprise-wide network infrastructure.
The company recently announced 76 percent top line growth and 42 percent EBITDA growth for the nine-month period ended March 31, 2006, marking its seventh consecutive quarter of increased revenue growth and profitability.
About NetSol Technologies, Inc.
NetSol Technologies is an end-to-end solution provider for the lease and finance industry. Headquartered in Calabasas, CA, NetSol Technologies, Inc. operates on a global basis with locations in the U.S. , Europe, East Asia and Asia Pacific. NetSol helps its clients identify, evaluate and implement technology solutions to meet their most critical business challenges and maximize their bottom line. By utilizing its worldwide resources, NetSol delivers high-quality, cost-effective IT services ranging from consulting and application development to systems integration and outsourcing. NetSol's commitment to quality is demonstrated by its achievement of both ISO 9001 and SEI (Software Engineering Institute) CMM (Capability Maturity Model) Level 4 assessment. For more information, visit NetSol Technologies' web site at www.netsoltek.com.
Investor Relations:
Marty Tullio or Mark D. Tullio
McCloud Communications, LLC
949.553.9748
marty@McCloudCommunications.com
mark@McCloudCommunications.com
NetSol Technologies:
Najeeb U. Ghauri, Chairman, or Tina Gilger, CFO
818.222.9195
najeeb@netsoltek.com
tina@netsoltek.com
### Press Release ###########################

International Decision Systems and American Lease Insurance
Partner for Real-time Insurance Interface.
MINNEAPOLIS , Minn. - International Decision Systems (IDS) and American Lease Insurance (ALI) have partnered to introduce Insurance Interface Integration Manager (I3M), an integration module to provide the first real-time portfolio system - insurance provider link. I3M will connect InfoLease®, the industry's most widely used lease accounting software program, and the American Lease Insurance ProgramSM. According to Ron Dolan, global vice president of sales for IDS, "I3M adds a seamless insurance interface to our comprehensive portfolio management system, and provides our customers a single source of support."
I3M is available to InfoLease users, whether or not they currently use Integration Manager. The I3M integration module will soon be functional with ProFinia , IDS's innovative asset management control tool. "We're very happy to call American Lease Insurance our preferred partner," Dolan comments, "We'r e eager to work with a progressive insurance provider addressing market needs with legitimate business practices."
Steve Dinkelaker, American Lease Insurance president, is equally enthused. "We're very proud to be working with IDS as a preferred partner, and excited about the real-time functionality I3M adds: receiving data on eligible lease transactions, generating insurance quotes for lessees, processing insurance charges, and posting credits when applicable - all automatically." Unlike a prior integration module, I3M provides total data integrity and cash reconciliation. "I3M's real-time capability eliminates any manual intervention on the part of the user," Dinkelaker sums up, "it's the next generation of insurance data exchange."
The American Lease Insurance Program provides comprehensive portfolio protection, placing property and liability coverage on all eligible equipment from the date each lease is signed, as well as tracking insurance coverage for lessees who choose to obtain their own insurance. ALI's superior coverage, competitive pricing, and meticulous collections and claims processing have resulted in the highest acceptance rates in the industry. ALI was founded in 2000, and currently services a growing roster of clients from its headquarters in Sunderland , Massachusetts . An active member of all major equipment leasing associations, ALI has been the corporate sponsor of the Equipment Leasing and Financing Foundation's annual Industry Future Council since 2003. For more information, go to www.aliac.net.
International Decision Systems is the global leader in asset finance portfolio management software and services today. Headquartered in Minneapolis , Minnesota , the company also operates offices in London , Sydney , Singapore and Bangalore , India . Its flagship product, InfoLease is the "gold standard" of the asset finance industry. More than 50 percent of the Monitor 100 and Monitor Bank 50 use IDS solutions; 42% of lease receivables in the United States are booked to IDS systems, approximately 20% worldwide. For more information, go to www.internationaldecisionsystems.com.
---------------------------------------------------------------
### Press Release ###########################

Equipment Leasing Showcase Confirms Oracle for Technology Presentations
Atlanta, GA -– The Lessors Network has confirmed Oracle Corporation is scheduled to participate in the Annual Lessor Resources Showcase August 30-31 at the Ritz-Carlton, Buckhead Hotel in Atlanta, Georgia.
Lane Leskela, Senior Product Director, Compliance Applications, is scheduled to deliver a special General Session presentation entitled "Conquering Compliance with Oracle's Compliance Management Architecture".
Joseph Franco, Senior Practice Director will introduce Oracles technology solutions in a General Session Exhibitor Presentation.
Oracle joins an elite group of special guest speakers and exhibitors including:
Harold E. Blatt ~ EVP ~ Bank of America Business Capital
Quentin Cote ~ Head of Private Investments ~ Cambridge Place Investment Management Group
Steven K. Crain ~ Special Guest
Crit DeMent ~ Chairman - CEO ~ LEAF Financial Corporation
Mark DiPaolo ~ Director – Sales Operations ~ Diligenz, Inc.
Edward K. Gross, Esq. ~ Shareholder ~ Ober, Kaler, Grimes & Shriver
Shawn Halladay ~ Managing Principal ~ The Alta Group
Joseph N. Lane ~ Product Marketing ~ International Decision Systems, Inc.
Richard V. Lewis ~ VP – Business Integration ~ JDR Solutions, LLC
Mark McGreenery ~ Managing Director ~ DB Zwirn
Barry Marks, CLP ~ Attorney ~ Baker Donelson
Tom Martin ~ President ~ CFI Financial Services
David Mirsky ~ Chairman & COO ~ Pacific Rim Capital, Inc.
Alan J. Mogol ~ Shareholder ~ Ober, Kaler, Grimes & Shriver
Rick J. Noel ~ Partner ~ Värde Partners, Inc.
Cindy Spurdle ~ Executive Director ~ CLP Foundation
Mike Weber ~ Vice President ~ Deutsche Bank
Ken Weinberg ~ Attorney ~ Baker Donelson
Traditionally an early sell out, this annual networking event has historically attracted the "A-List" from the equipment leasing and finance markets including: Bank of America, Caterpillar Financial Services Corp., Chase Equipment Leasing, CIT, Citigroup, Inc., Daimler Chrysler, De Lage Landen, Decision Systems, Inc., Dell Financial Services, Deutsche Financial Services, Diligenz, Inc., ePlus Group, Inc., Experian, Fair, Isaac and Company, Fitch Ratings, GATX Capital, GE Capital, GMAC Commercial Finance, IBM Global Financing, Information Leasing Corp., International Decision Systems, John Deere Credit, Key Equipment Finance Group, KPMG Consulting LLC, Oracle Credit Corporation, Pitney Bowes Financial Services, RVI Group, SAP America, Siemens Financial Services, Textron Financial Corporation, Toyota Financial Services, UCC Direct Services, US Bancorp, Wachovia Leasing & Equipment Finance and Wells Fargo Equipment Finance.
Additional information about the Annual Lessor Resources Showcase can be viewed from www.lessors.com.
About the Lessors Network:
From www.Lessors.com, the Lessors Network is a global vertical marketing network connecting participating small, medium, and large companies and their employees across the equipment leasing enterprise through a common content and interactive platform.
### Press Release ###########################

Leasing Software Companies
Top eLeasing software companies, as ranked by employees.
Rank

Company Name
Year Founded
Website

Employees

CEO

Additional Services
Offered

Yearly
Volume

Major Clients

1

NetSol Technologies, Inc.

1996

Corporate Headquarters

23901 Calabasas Road, Suite 2072

Calabasas, CA 91302

USA

Tel: + 1 818-222-9195

Fax: + 1 818-222-9197

info@netsoltek.com www.netsoltek.com

581
(worldwide)

Najeeb Ghauri
Chairman, Founder, Director
Naeem Ghauri
CEO, Director
Salim Ghauri
CEO, Director, NetSol Technologies, LTD (Lahore, Pakistan based subsidiary)

LeaseSoft, a suite of four software applications, end-to-end solution; consulting and other services available

NASDAQ:NTWK

DaimlerChrysler Services
Finlease Company, Ltd
Mercedes-Benz Finance
UMF Leasing
Yamaha Motors Finance

2

International Decision Systems

(f)




1974




80 South Eigth Street, Suite 1500

Minneapolis, MN 55402

612.851.3200

612.521.3207 - fax


www.idsgrp.com

301
(Worldwide)
203 US/North America
34 Asia/Pacific
64 UK

Todd Davis, COO.,
Michael Mehr,
VP of Fin / Admin., Ronald
Dolan, Global
VP of Sales,and David Nash,VP of Prof Srvcs.


Rapport & ProFinia

Privately Held

Wells Fargo
Daimler Chrysler Corp.

3

192

Cyndy Stone

Consulting
Internet Enabled Applications
Lease Accounting
Consumer Loan Accounting
Commercial Loan Accounting
Loan Tracking
Collections/Customer Service

N/R

28 of the top US Banks and 7 top captive automotive finance companies run Shaw applications.

4

White Clarke North American (e)
www.whiteclarkenorthamerica.com
1992

Contact Information: Lisa Campbell Marketing Manager
White Clarke North America
150 Ferrand Drive, Suite 1101
Toronto, ON M3C 3E5
Phone: 416 467 1900
Fax: 416 467 9094
Email: lisa.campbell@na.whiteclarkegroup.com

175

Debbie Carroll

Privately held

ADP Credit Corp.
Canadian Remarketing Group,
Fair Isaac & Co.
First National Equipment Finance,
Ford Credit - Europe, Latin America, Asia Pacific, UK,
John Deere Credit,

5

155

Tony Bracey

Wholesale Finance WFSv5 - integrated stock finance and loans administration system. Ecommerce financial proposal systems EPS. Core Banking Software and services.

Varied

Union Energy,
MTC Leasing Inc., Finning, Koch Industries, Wittern Group,
Patterson Dental Supply, Inc., Neon,
Cessna Aircraft Corp., NatWest Group Plc, American Express, Bank of Scotland, Toyota Financial Services (UK),

6

Taxware, LLP
N/A
www.taxware.com
401 Edgewater Place
Suite 260
Wakefield, MA 01880
USA
780-557-2600
781-557-2609 - Fax
Anna Kobierski - Tax Counsel
Email: amy.kobierski@taxware.com

150

N/A

N/R

N/R

N/R

7

CHP Consulting
1127 Columbus Drive
Stafford, VA. 22554-2030
USA
marketing@chpconsulting.com
www.chpconsulting.com
Year founded 1990

120

Justin Cooper
Director

Andrew Denton
Director

CHP has been successfully delivering consultancy and systems for the leasing and asset finance industries for fifteen years. CHP supplies the market leading ALFA Systems. ALFA systems provide support for the sale, administration and accounting of a wide variety of finance products and channels to market.

CHP has a 100% project delivery record.

Privately held

Banc of America,
Barclays Bank,
Citigroup,
Commonwealth Bank of Australia,
Cooperative Bank,
Dresdner Kleinwort Wasserstein,
GE Capital, HBoS, Hitachi Capital,
HSBC,
ING Lease,
Leasedrive,
Lloyds TSB,
National Australia Group,
Nissan Finance,
RBS Lombard,
RBS Lombard Vehicle Management,
Société Générale,|
Svenska Handelsbanken

8

100

Kevin Riegelsberger

Installed at 9 of the top 40 US Banks. Leading provider of front office automation software for equipment finance, small business lending, commercial lending and CRE lending.

Privately Held

Major Clients:
AgStar Financial Services,
Arrow Capital,
Bank of America ,
De Lage Landen,
Koch Financial,
McKesson Capital Group,
Siemens Financial Services,
TCF Leasing,
Raymond Leasing

9

81

Peter Hyne

n/a

Major Clients: Pitney Bowes Global Credit Services, Volvo Commercial Finance, VFC Inc., MTC Leasing Inc., Relational Funding, Comark and others.

10

75

Deepak Verma

nFusion - Web-based credit processing

-We don't disclose this

CIT Group,
CitiCapital ,
Textron Financial, Ryder System, XTRALease, Xerox

11

McCue Systems
A subsidiary of NetSol Technology
McCue.com
1973

66

John McCue

LeasePak Lease/Loan Management System / Lease enterprise consulting / System implementation, integration, and training / Customized development

Confidential

KeyBank / Volkswagen Credit / ORIX AUS / BancOne / MC Leasing / Bank of Tokyo - Mitsubishi

12

60

Russ Hallberg, President
Randy Haug, Senior Vice President

* Microsoft Great Plains (Financial Accounting) * Crystal Reports (Ad hoc Report Writing) * Crystal Enterprise (Report Distribution) * Vertex (Sales Tax) * TaxWare (Sales Tax) * PTMS (Property Tax) * CBIZ (Property Tax) * UCC Direct (UCC Filing) * American Lease Insurance (Insurance) * Premier Lease & Loan Services (Insurance) * Microbilt (Business and Consumer Credit Bureau Report Retrieval) * MelissaData (Address Validation) * PayNet (Credit Reports)

$10 million

300 clients through US and Canada

IFC Credit Corporation / First Corp Verizon Credit Popular Leasing
Volvo Commercial Finance, LLC
Information Leasing Corporation
HPSC Relational Funding Corporation
Eplus Group, Inc.
ICX Corporation
All Points Capital Corporation
Heartland Business Credit
Raymond Leasing Corporation
Americorp Financial, Inc. ICX Corporation
Balboa Capital Corporation
Alter Moneta Corporation

13

30

Karen Wendel

N/R

N/R

ADP,
eScout,
NEC,
HP,
Navidec

14

45

Mike Grossman

LiveCapital Solution for Lease Origination

N/R

Siemens, Waste Management, US Steel, Kubota Tractor, PC Connection

15

13

Steve Lundergan

N/R

N/R

Hitachi Credit America All Points Capital Firerock Capital
Thalman Financial Services BSBLeasing/Procure Financial Services

16

Dominion Leasing Software

(d)


Lease Complete©

P.O. Box 550, Powhatan, VA 23139

804 403 3710

Founded 2003

www.dominionls.com

David F. Hill VP Sales & Marketing
X715

Please read Note d, below for information about LeaseComlete.

Privately held

Diverse client group including commercial banks, credit unions, and independent leasing companies.

17

FinanceEdge Software, LLC

2006

5959 Central Ave. Suite 103

Saint Petersburg, FL 33710

United States

877-360-7855

727-381-6937 - Fax

financeedgesoftware.com

8

Cha Loh, COO

N/R

N/R

N/R

18

Better Programs www.betterprograms.com
1985

Chad W. Russell Vice President
Better Programs, Inc.
5852 West Pacific Circle
Denver, CO 80227
Phone: 303 986 1969
Fax: (610) 602-5400
Email: crussell@betterprograms.com

5

Charles R. Oleson

See description (i)

Privately Held

Large user base across the U.S. and Canada.

19

5

Jim Buckles

Support and Sales of Advantage (upgrade from System 1 (2.5) program). Support and sales of alaQuote, web based lease payment calculator, quote and on-line application tool. Custom report writing, template creation & web development.

25 - 30 new clients

N/R

20

N/R

N/R

N/R

N/R

N/R

21

N/R

N/R

N/R

N/R

N/R

22

N/R

N/R

N/R

N/R

N/R

23

N/R

N/R

N/R

N/R

N/R

24

N/R

N/R

N/R

N/R

N/R

25

N/R

N/R

N/R

N/R

N/R

26

N/R

N/R

N/R

N/R

N/R

27

N/R

N/R

N/R

N/R

N/R

28

N/R

N/R

N/R

N/R

N/R

29

N/R

N/R

N/R

N/R

N/R

30

N/R

N/R

N/R

N/R

N/R
N/R No Response
*as reported by receptionist.
(a) Products: LeaseTeam is a full service provider of software and services to assist small, middle and large ticket equipment lessors. Since our inception, LeaseTeam has been dedicated to the equipment leasing software industry. Our turnkey solutions - Lease Sales Manager and LeasePlus - are the choice of established leasing companies and banks throughout North America, making LeaseTeam a trusted leader in the equipment leasing software industry.
LeasePlusTM, lease accounting and equipment asset management software. Lease Sales ManagerTM, leasing and financial services front-end system. Our Lease Sales Manager product focuses on automating and managing the front-end operations of a leasing company with functionality including pricing, quote generation, application submittal, pre-credit decisions, electronic credit report pulls, credit scoring or analysis, automated documentation and integration with your back-end system. Your front-end process(s) can be defined in the workflow so that everyone knows what they are responsible at any point in time. Lease Sales Manager workflow also provides metrics for measuring turnaround times for the entire process or for specific steps in the process. RDSTM, reporting database system.
In conjunction with the aforementioned software solutions, we offer licensing options that include in-house licensing, running from the clients' hardware- at the clients' site; and ASP hosting of all LeaseTeam applications.
Partnerships
LeaseTeam has historically identified "best of breed" software solutions that are complimentary with our products and entered into strategic relationships with those companies in order to provide the most cost effective total solution for our customers. We feel that this is particularly important in functional areas that span different industries and are not unique to equipment leasing. LeaseTeam currently has relationships with the following "best of breed" products:
* Microsoft Great Plains (Financial Accounting)
* Crystal Reports (Ad hoc Report Writing)
* Crystal Enterprise (Report Distribution)
* Vertex (Sales Tax)
* TaxWare (Sales Tax)
* PTMS (Property Tax)
* CBIZ (Property Tax)
* UCC Direct (UCC Filing)
* American Lease Insurance (Insurance)
* Premier Lease & Loan Services (Insurance)
* Microbilt (Business and Consumer Credit Bureau Report Retrieval)
* MelissaData (Address Validation)
* PayNet (Credit Reports)
Onsite and Virtual Client Services:
Software installation and implementation services.
Data conversion services.
Project Management services and Leasing System Consulting.
Best Practices Consulting.
Custom Reporting.
Knowledge Transfer:
We offer LeasePlusTM, Microsoft Great PlainsTM and Crystal ReportsTM training monthly at our headquarters and as-needed, onsite at our customer's offices throughout the United States and Canada. In addition to regularly scheduled training workshops, LeaseTeam holds an annual client conference in Omaha, Nebraska. The LeaseTeam client conference brings together a comprehensive grouping of Senior IT, Finance and Corporate Executives from successful leasing companies together with the experts within LeaseTeam and leading vendors to offer hands-on training as well as networking opportunities. LeaseTeam is preparing for it's 14th annual conference, which is attended by more than 100 participants each year.
Application Support:
Telephone support and online "customer only" section of our website provide direction and instruction to new and existing users of our products. Additionally, we provide ongoing product enhancement via software updates.
Technical Support:
We offer technical troubleshooting and start-up assistance to users of varying abilities, from IT Managers to Accountants.
Yearly Volume:
$10MM
Major Clients:
LeaseTeam products have installed base of approximately 300 leasing and commercial finance companies throughout the U.S. and Canada. Our organization possesses a wide variety of exposure to leasing operations including pricing, credit operation, documentation, accounting, collections and portfolio and asset management with a wide variety of types of leasing companies using our products from micro-ticket through large-ticket.
Some of our key clients include:
MATSCO Financial Corporation
IFC Credit Corporation / First Corp
Verizon Credit
Popular Leasing
Volvo Commercial Finance, LLC
Information Leasing Corporation
HPSC
Relational Funding Corporation
Eplus Group, Inc.
ICX Corporation
All Points Capital Corporation
Heartland Business Credit
Raymond Leasing Corporation
Americorp Financial, Inc.
ICX Corporation
Balboa Capital Corporation
Alter Moneta Corporation
(b) WiredCapital/CapitalStream
October ,2001,WiredCapital and Capital Stream "merged" and the corporate officers of WiredCapital kept the name but took over management.
http://www.leasingnews.org/archives/October2002/10-31-2002.htm#takeover
One of the cofounders, John Kruse, resigned January 1, 2003.
http://www.leasingnews.org/archives/Januray%202003/1_07_03.htm#john
They "integrated" with Ivory Consulting Partners in early March.
http://www.leasingnews.org/archives/March%202003/03-03-03.htm#capital
(c) Description of Services: Vision Commerce delivers unparalleled front-end e-commerce solutions to the Equipment Leasing and Finance Industries. Vision Commerce provides a front-end solution for proposal delivery, processing credit applications, status reporting and documentation via the Internet. We offer a suite of technology solutions. Vision Commerce delivers its lease origination and marketing system through an Application Service Provider (ASP) model, hosted solution or as an in-house solution. The ASP offering allows us to provide rapid and economical solutions to Subscribers. Vision Commerce has all the technical capabilities to securely support thousands of simultaneous users processing quotes and applications through the Internet. Software enhancements are applied regularly to the ASP solution at no additional cost to Subscribers.
Vision provides typical origination, workflow, decisioning, and documentation capabilities. Our product is differentiated from the rest by its marketing and co-branding capabilities. Vision Commerce hosts hundreds of private-label or custom program leasing sites supporting more than 2000 users. With Vision, our subscribers can quickly and economically deploy solutions that meet the individual requirements of vendors, manufacturers, distributors, brokers, funding sources, and partners. We understand that each relationship is different, and we have constructed our product to adapt to changing business rules.
Vision is a single solution that allows internal staff to collaboratively originate, score, price, and document in one integrated platform.
Developed using the Microsoft .NET framework, Vision showcases the versatility of the latest Internet development tools. This industry leading technology is a secure and reliable solution now and a robust foundation for enhancements planned to extend support to the leasing and finance industries.
Recent Enhancements: In February 2003, Vision Commerce, Inc. released its Vision Framework. The new framework supports the ASP, Hosted and In-House solutions all with the same degree of flexibility, scalability and configurability.
Linda Lundergan
Vision Commerce, Inc.
866-707-9929
636-669-1400
linda@visioncommerce.com
(d) LeaseComplete© is a comprehensive lease accounting and asset management solution that is widely recognized as the premier custom solution for both equipment and vehicle lease portfolios. Our value-added approach to system design provides features that allow you to add services for your customers that both garner repeat business and provide additional revenue sources for your company. For more information, please visit our website where you can take a virtual tour of the System and schedule your own private web-based demonstration. http://www.dominionls.com/ .
Thank you.
David Hill
Dominion Leasing Software, LLC
david.hill@dominionls.com
(e) White Clark - Consulting Services
WCNA offers a portfolio of consulting and implementation services including feasibility studies, process analysis and design, system requirements, project rescue, compliance requirements (Basel II, Sarbanes Oxley, Patriot Act), securitization and interim management.

Products

CALMS (Credit Adjudication and Lending Management System), is automates front office processes with proven, reliable systems that meet your priorities and support the way you do business. CALMS components (Application Generator, Deal Structuring System, Decision System, Document Management System, Asset Inspection System, Auction & Remarketing System) offer best of breed technology that directly improve business performance.
(f) International Decision Systems
Fortune 500 Global Companies Select Rapport™ from International Decision
Systems, Release 5.5 Now Available
(g) Cyence - ExpressOS TM is an enterprise-wide software solution based on Microsoft's .NET platform, providing end-to-end business process automation in the areas of sales force automation, deal originations, transaction structuring, credit adjudication, documentation and auditing for all types of commercial and consumer financing transactions.
ISIS is a multi-tiered application suite built on the Windows operating system platform. It consists of a client side application, ISIS Desktop Client, a server side application, ISIS Data Engine, and an assortment of specialized clients for interfacing with outside systems to support functions such as Lease Accounting, Credit Scoring and UCC filing.
(h) Summit National, Inc. is a leading global provider of lease accounting software and services for the equipment, computer, and automobile leasing industry. Our suite of systems include: AP 2000, MILLENNIA, OPTIMA, & MAXXUM. Summit also offers Application Service Provider and Outsourcing services.
Summit's 350+ client/user base include 18 of the Monitor 100. Summit also provides software and services for leading small and mid-range banks, leasing companies, and other captives.
April 5, 2005 Summit National filed for bankruptcy.
http://www.leasingnews.org/Conscious-Top%20Stories/Summit_nat.htm
Ken Duffy, Sr., President of Summit National, requested that we put his company back on the Leasing News list of companies that specialize in leasing software:
"We have not sought publicity in this matter but our exclusion from the vendor list deserves a response. United Airlines (and other well known entities) are also in CH11 but they're not out of business. Nor are we. As your research of court docs should have revealed, SNI was forced to take the protective CH11 action due to an unfriendly takeover attempt. In fact the party attempting the takeover tried to have the CH11 dismissed in order to pursue their objective. The Court in Chicago(05-B15565) issued its opinion dismissing their motion on 7/19. On 8/18 the 6th Court of Appeal in Cincinnati(03-1796) affirmed SNI's summary judgment and permanent injunction for breach of contract against this same party granted by the Federal District Court in Detroit(02-71871). The jury trial for damages to SNI under the judgment is scheduled for 11/01/05 in Detroit. I think you have drawn an improper conclusion and I would like you to correct it. We have been friends for a long time and !
" I trust this exclusion was simply an innocent misunderstanding of the facts. Please restore our listing as it has been in the past."
Leasing News has included the company back on the list, but footnotes its present condition.
(i) Better Programs - TURBO-Lease is a lease accounting software capable of processing all types of equipment and vehicle lease portfolios. The system is easy to use, yet its power, flexibility, and completeness surpass those costing many times its price.

TURBO-Lease offers complete receivable administration including billing, ACH processing and aging of lease payments, late charges, property taxes, insurance charges, and sales and use taxes. Monthly accounting reports provide accurate totals of cash receipts, account balances, FASB 13 income, initial direct costs, residual income, and equipment depreciation including alternative minimum tax. Management reports provide summaries of new business activity, lease expirations, residuals due, insurance expirations, location and ranking. The system handles complex irregular payment structures such as skip, step, variable, quarterly, and annual. All reports can be sent to printer, screen or MS-Excel to provide valuable flexibility in data analysis.

Other features include, delinquency reporting and a collection module to schedule and track collection activity; forecasting including income, depreciation and discounted cash flows of payments and residuals; payoffs; on-line viewing of payments, charges and past due payments. Complementing TURBO-Lease are easily added modules for loan accounting, notes payable, ACH processing, asset tracking, and an interface to popular general ledger packages. Interfaces are available to front office automation systems, sales tax rate services, property tax and insurance processing. See our web site for more details.
www.betterprograms.com
### Press Release ###########################
--------------------------------------------------------------

News Briefs----
Banking plan vital to stability, Bernanke says
http://www.boston.com/business/globe/articles/2006/06/13/
banking_plan_vital_to_stability_bernanke_says/
Spanish bank buys 2 Texas lenders
http://www.boston.com/business/globe/articles/2006/06/13/
spanish_bank_buys_2_texas_lenders/
Amtrak Supporters Aim to Ease Budget Cuts
http://www.nytimes.com/aponline/us/AP-Congress-Spending.html
31 percent of U.S. companies expect to hire in third quarter
http://seattletimes.nwsource.com/html/businesstechnology/
2003057524_jobsoutlook13.html
Strapped States Try New Route, Lease Toll Roads To Foreign Firms
http://www.washingtonpost.com/wp-dyn/content/article/2006/06/09/
AR2006060901775.html
Consumers are feeling the pinch
http://www.stltoday.com/stltoday/business/stories.nsf/story/E6203B4CE
68038258625718D000E0F89?OpenDocument
Home prices too high in 71 cities
http://www.usatoday.com/money/economy/housing/
2006-06-12-home-prices-usat_x.htm
House value chart by city
http://www.usatoday.com/money/economy/housing/2006-06-13-overchart.htm
System could save 10,000, car study says
http://www.boston.com/business/articles/2006/06/13/
system_could_save_10000_car_study_says/
---------------------------------------------------------------


You May have Missed---
Microsoft Releases 8 Critical Patches
http://www.chicagotribune.com/technology/sns-ap-microsoft-security,1,
3728017.story?coll=chi-business-hed
---------------------------------------------------------------

Sports Briefs----
Heat rally singes Mavs, 98-96
http://www.dallasnews.com/sharedcontent/dws/dn/latestnews/
stories/061406dnspomavslede.83b3db39.html
Following Dad's advice, Tiger returns 'ready to play'
http://www.usatoday.com/sports/golf/pga/2006-06-13-woods_x.htm
----------------------------------------------------------------


"Gimme that Wine"
New York 's "Copia" to open this week
http://www.decanter.com/news/86529.html
A Champagne True to Its Roots-Bollinger-by Eric Asimov
http://www.nytimes.com/2006/06/14/dining/14pour.html?_r=1&oref=slogin
Paris Landmark Has Much Experience in Carrying On-Frank J. Prail
http://www.nytimes.com/2006/06/14/dining/14tour.html
Wine Prices by vintage
http://www.winezap.com
http://www.wine-searcher.com/
US/International Wine Events
http://www.localwineevents.com/
Winery Atlas
http://www.carterhouse.com/atlas/\
Leasing News Wine & Spirits Page
http://two.leasingnews.org/Recommendations/wnensprts.htm
----------------------------------------------------------------

Restaurant Review
Lincoln Court Restaurant
Lincoln & 5th Ave.
Carmel , Ca.
Tel: 831-624-6220
This is a charming, small restaurant, half a block off the main thoroughfare.
Food is exquisite, presentation excellent, services superb.
The local people eat here. We were fortunate to have a Chaine des Rotisseur Sunday Brunch here. Robert E. Bussinger and his wife Wendy J. Brodie are members of the Chaine.
Wendy Brodie has her own weekly television show, "Art of Food," broadcast nationwide on PBS and Comcast ABC channel 7 as well as every day on Comcast Cable, Channels 2 and 34.
To learn more about the restaurant and "on line" store:
http://www.lincolncourt.com/who_are_we.htm
(for other reviews: please go here:
http://two.leasingnews.org/Recommendations/rstrnt.htm 0
----------------------------------------------------------------

Calendar Events This Day
Family History Day
Every summer family reunions are so busy with games and activities that most of us forget the true purpose: to share the folklore, legends and myths that bind us together. Each participant should share at least one good recollection (fact or fiction) Don't forget the hotdogs and lemonade.
www.wellcat.com
Homestead Days
This community-wide celebration recognizes the importance of the Homestead Act of 1862 to the settlement of Nebraska . Entertainment, parades and special museum exhibits.
www.beatricechamber.com
Malawi : freedom Day
National holiday. Commemorates free elections in 9914.
National Flag Day
According to the encyclopedia of American Facts and Dates, the somewhat obscure and uncertain history of the American Fag began during 1775-1777. In October, 1775, when Congress created the first naval force, it also set down rules for creation of a flag. The result, variously called Congress Colors, the Grand Union Flag, or the First Navy Ensign, was a flag of 13 alternating red and white stripes, with a field of blue bearing the crosses of St. George and St. Andrew. This flag is believed to be the one raised by Lt. John Paul Jones aboard Commodore Esek Hopkin's flagship Alfred on the Delaware River at Philadelphia on December 3, 1775. The first land raising of the Grand Union Flag occurred at Prospect Hill in Sommerville , Mass. on December 3, 1776, during the American siege of Boston . By the way, " the first flag commissioned for the navy was simply the basic British Union flag divided by white stripes. Our second flag, the Stars and Strips, substituted stars for the cross in the corner square. The red, white, and blue colors were derivative. They did not, as some allege, come out of Washington 's family crest. And they do not mean anything. Contrary to the 'Boy Scout Handbook,' the blue in the flag does not represent justice, the white is not for purity, and the red is not for braver." ( Shenkman, " Legends, Lies & Cherished Myths of American History(1988)
Another myth is that she sewed the flag personally, which is basically not correct. She was a contractor who hired seamstresses to sew sails and flags for ships and had the lowest bid to Congress for the flag ( and her firm also made the flag that Francis Scott Key wrote about---it was quite large and the commander of the fort had some controversy over the cost and the size of the flag---but that is another story ).
http://memory.loc.gov/ammem/today/jun14.html
National Flay Day USA : PAUSE FOR THE PLEDGE
Held simultaneously across the country at 7pm, EDT. PL 99-54 recognizes the Pause for the Pledge as part of National Flag Day ceremonies. The concept of the Pause for the Pledge of allegiance was conceived as a way for all citizens to share a patriotic moment together. National Ceremony at Fort McHenry National Monument and Historic Shrine.
----------------------------------------------------------------

Today's Top Event in History
1953 - Elvis Presley graduated from L.C. Humes High School in Memphis , TN. Within three years, the truck driver-turned-singer had his first number-one record with "Heartbreak Hotel".
----------------------------------------------------------------

This Day in American History
1775- the Continental Congress established the army as the first US Military service.
1777- John Adams introduced the following resolution before the Continental Congress, meeting at Philadelphia , Pennsylvania : " Resolved, That the flag of the thirteen United States shall be thirteen stripes, alternate red and white, that the union be thirteen stars, white on a blue field, representing a new constellation." (by the way, this is a legal holiday in Pennsylvania ). The blue field was to bear 13 stars, one for each state. The tradition that Betsy Ross designed the flag has been almost completely discredited. The flag was originally suggested by Francis Hopkinson, a member of the Continental Navy Board from 1776 to 1778, who is considered by historians to be the father of the Stars and Stripes.
1811- Birthday of American writer Harriet Beecher Stowe, daughter of the Reverend Lyman Beecher and sister of Henry Ward Beecher. Author of Uncle Tom's Cabin, an antislavery novel that provoked a storm of protest and resulted in fame for its author. Two characters in the novel attained such importance that their names became part of the English language—the Negro slave, Uncle Tom, and the villainous slave owner, Simon Legree. The reaction to Uncle Tom's Cabin and its profound political impact are without parallel in American literature. It is said that during the Civil War, when Harriet Beecher Stowe was introduced to President Abraham Lincoln, his words to her were, "So you're the little woman who wrote the book that made this great war.' Stowe was born at Litchfield , CT and died at Hartford , CT , July 1,1896.
http://digital.library.upenn.edu/women/stowe/StoweHB.html
http://www.bragi.com/classics/s/hbs1811/utomc01.shtml
1820- birthday of John Bartlett, American editor and compiler ( Bartlett 's "Famous Quotations"(1855) was born at Plymouth , MA . Though he had little formal education, he created one of the most-used reference works of the English language. No quotation of his own is among the more than 22,000 listed today, but in the preface to the first edition, he wrote that the object of his work " originally made without any view of publication" was to show " the obligation our language owes to various authors for numerous phrases and familiar quotations which have become household words." Bartlett died at Cambridge , MA , Dec. 3, 1905.
http://www.bartleby.com/100/
1834-my don Dash in the US Navy, who attended diving school could tell you more, but the first practical diving suit was patented by Leonard Norcross of Disfield, ME, for a "water-dress." It consisted of an airtight rubber garment to which was attached a brass cap or helmet that rested on the shoulders. The cap was connected to an air pump on the boat by means of a rubber hose. The feet were weighted with heavy lead shot.
http://www.divingheritage.com/waybackkern.htm
1834-Isaac Fisher, Jr. of Springfield, VT, was granted four patents on his invention he called " sandpaper."
1846-John Frémont launched the Bear Flag Revolution, and established the California Republic . William. B. Ide served as President of the Republic of California until July 9. Governor Vallejo was also taken prisoner during the skirmish and was moved to Sutter's Fort. Bear flag raised at Sonoma .
1848-The San Francisco "California Star" ceased publication because the staff had rushed to the gold fields.
1850-Howard Engine Co. No. 13 and Sansome Hook and Ladder Co. No. 3 organized in San Francisco . The Sansome company carried fifty-foot ladders, the largest in the state. The company also had charge of the powder magazine at its Montgomery St. quarters for use during conflagrations. Third Great Fire destroyed the area between Clay , California and Kearny all the way down to the Bay. 300 more buildings were lost, and the damages were $5,000,000. The fire started in the Sacramento Bakery at the rear of the Merchants Hotel at Clay and Kearny streets.
1864-US Congress ruled that Black soldiers must receive equal pay.
http://www.shsu.edu/~his_ncp/AfrAmer.html
http://www.cr.nps.gov/history/online_books/rthg/chap7.htm
1864-The James River Bridge, the longest (2100ft) pontoon bridge ever used in war, was constructed in eight hours by 450 Union engineers. Extending from Windmill Point to Fort Powhatan in Virginia , the structure enabled Grant's forces to cross the James River and to move on Petersburg , a vital communications center south of Richmond . The next three days, at the Battle of Petersburg, VA, Union forces were unable to take the strategic city in the face of what historians call the brilliant strategy by General Robert E. Lee. The actual siege actually continued until April of the following year, 1865 (Battle of Five Forks April 1, evacuation of Richmond and Petersburg, April 2, April 3,Union forces occupy Petersburg, VA, April 9, Gen. Lee surrenders to Gen. Grant at Appomattox, April 14, President Lincoln is shot by John Wilkes Booth.)
http://www.civilwar.com/va81.htm
http://www.mdgorman.com/2538.htm
http://www.mdgorman.com/2539.htm
http://www.mdgorman.com/2465.htm
http://wargame.com/images/acw/image25.html
http://www.mdgorman.com/2466.htm
http://www.treasurenet.com/images/civilwar/civil007.html
http://www.flowerdew.org/Prince.html
http://cti.itc.virginia.edu/~ela/letters/dcgdiary2.html
http://www.virginiasheartland.org/recreation.html
http://www.civilwar-va.com/virginia/va-central/1864tour.html
http://www2.cr.nps.gov/abpp/battles/va063.htm
1877-the First West Point graduate who was African-American was Henry Ossian Flipper, born a slave on March 29, 1856 to Thomasville, GA. He was a cadet from May 20, 1873, to June 14, 1877. He was appointed a second lieutenant in the 10 th Cavalry on June 15, 1877, and remained in service until June 30, 1882,when he was dismissed for conduct unbecoming an officer and a gentleman. In December,1976, the Army reviewed his court-martial charge and changed his discharge record from dishonorable to honorable.
http://lala.essortment.com/henryossianfli_ricp.htm
http://www.rose.net/flipper.htm
http://docsouth.unc.edu/flipper/menu.html
http://www.allenscreations.com/dghof.html
http://www.amazon.com/exec/obidos/ASIN/0803268904/inktomi-bkasin-20
/102-3693736-6012943
1881-ushering in a new era, John McTammany, Jr. of Cambridge, MA, received a patent on a "mechanical musical instrument," he called a "player piano." He constructed a mechanism for automatic playing of organs using narrow sheets of perforated flexible paper that governed the notes to be played." Further patents were applied for all types of piano players, and the first completely automatic was the Angelus, made by the Wilcox and White company, Meriden , CT. in 1897.
1903 - The "Heppner Disaster" occurred in Oregon . A cloudburst in the hills sent a flood down Willow Creek, and a twenty foot wall of water swept away a third of the town in minutes, killing 236 residents and causing 100 million dollars damage
http://www.rootsweb.com/~ormorrow/HeppnerFlood.htm
1906-Margaret Bourke-White was born at New York City . One of the original photojournalists, she developed her personal style while photographing the Krupp Iron Works in Germany and the Soviet Union during the first Vive-year Plan. Bourke-White was one of the four original staff photographers for Life magazine in 1936. The first woman attached to the US armed forces during World War II, she covered the Italian campaign, the siege of Moscow and the American soldiers crossing of the Rhine into Germany , and she shocked the world with her photographs of the concentration camps. Bourke-White photographed Mahatma Gandhi and covered the migration of the millions of people after the Indian subcontinent was divided into Hindu India and Muslim Pakistan. She served as a war correspondent during the Korean War. Among her several books the most famous was her collaboration with her second husband, novelist Erskine Caldwell, a study of rural poverty in the American South, called' You Have Seen Their Faces." She died august 27, 1971 at Stamford , CT.
http://www.dailycelebrations.com/031401.htm
http://www.artcyclopedia.com/artists/bourke-white_margaret.html
1909-birthday of Burl Ives, American singer and actor. Burl Icle Ivanhoe Ives was born at Hunt, IL. He helped to reintroduce Anglo-American folk music in the 40s and 50s. Ives won an Academy Award for his supporting role in "The Big Country"(1958) and he is well known for his role as Big Daddy in both the film and Broadway productions of Cat On a Hat Tin Roof. His biggest chart success was "Little Bitty Tear" in 1961. Ives also arranged and popularized such folk tunes as "Blue Tail Fly" and "Wayfarin' Stranger." He died of cancer at his home in Anacortes , Washington , on April 14th, 1995.
1910---Birthday of Jazz Guitarist/Singer/Bandleader Nappy Lamare
http://wwwp.musicmatch.com/artist/artist.cgi?ARTISTID=848631&TMP
L=LONG#bio
http://www.themomi.org/museum/roaring20s/1929L-5Nappy.html
http://www.317x.com/albums/b/raybauduc/card.html
http://www.nfo.net/usa/n2.html
1916-A Presidential Proclamation has made this "Flag Day." In 1996, it was amended to have "National Flag Week." and the president added, " It is a time to honor America ." We have the flag flying high here at American Leasing with the San Francisco 49er flag beneath.
1926 - Don (Donald) 'Newk' Newcombe (baseball: pitcher: Brooklyn Dodgers [Rookie of the Year: 1949/Cy Young Award: 1956/Baseball Writer's Award: 1956/World Series: 1949, 1950, 1951, 1955/all-star: 1949, 1950, 1951, 1955], Cincinnati Redlegs, Los Angeles Dodgers, Cincinnati Reds, Cleveland Indians), born Madison , NJ
1929-pianist/composer Cy Coleman born, New York City .
http://www.ascap.com/about/coleman-bio.html
http://www.virtualcity.de/englishtheater/ccoleman.htm
1931-birthday of saxophonist Junior Walker, Blytheville , AR , died Nov 25, 1995, Battle creek , MI
http://www.history-of-rock.com/junior_walker_and_the_all_stars.htm
1934-Max Baer knocked out Primo Carnera in the 11 th round of a fight at Long Island City , NY , to win the heavyweight title. Carnero had won the crown from Jack Sharkey. Baer lost it in his next fight to James Braddock.
1937 - Pennsylvania became the first state in the United States to observe Flag Day as a legal holiday. As noted in the beginning, the only state to legally observe this day as a holiday.
1946-Nat "King" Cole Trio records " The Christmas Song," NYC. Record promoters like it so much, on August 19 th , he records it with strings and it became a commercial hit."
1949---Top Hits
Riders in the Sky - Vaughn Monroe
Again - Doris Day
Bali Ha'i - Perry Como
One Kiss Too Many - Eddy Arnold
1950-American Oil Company announced plans to sponsor the telecast of every Washington Redskins football game during the upcoming season. The Redskins thus became the first pro football team to televise a complete slate of regular-season games.
1951- Univac, the world's first commercial computer was unveiled, demonstrated, and dedicated in Philadelphia , PA , primarily to help out with the census. The first computer was developed in 1946, ENIAC ( Electronic Numeric Integrator and Computer ). The name we use today comes from the fact ENIAC was difficult to pronounce and scientists among themselves referred to the machine as a "computer."
1952-- In a 3-1 loss, Boston Braves southpaw Warren Spahn whiffs 18 Cubs in 15 innings tying Jim Whitney's National League record of 18 strikeouts. On the same day, Braves scout Dewey Griggs signs a Mobile , Alabama youth named Henry Aaron.
1953 - Elvis Presley graduated from L.C. Humes High School in Memphis , TN. Within three years, the truck driver-turned-singer had his first number-one record with "Heartbreak Hotel".
1954-the first Civil defense test was held nationwide, including the continental United States, 10 provinces of Canada, Alaska, Hawaii, Puerto Rico, and the Virgin Islands from 10 to 10:10am, when the all-clear signal was given. There were held periodically and both radio and television were to test the civil defense system periodically during the month for one minute duration.
1956 - No. 1 Billboard Pop Hit: "The Wayward Wind," Gogi Grant.
1957---Top Hits
Love Letters in the Sand - Pat Boone
A Teenager's Romance/I'm Walkin' - Ricky Nelson
Bye Bye Love - The Everly Brothers
Four Walls - Jim Reeves
1961 - The temperature in Downtown San Francisco, CA, soared to 106 degrees to establish an all-time record for that location
1963 - Duke Snider, one of the Dodger's most famous player (I have his autograph from when I was a kid---free, stayed after the game to sign autographs for all the kids ) got his 400th home run in a game against the Cincinnati Reds. Snider became the ninth player in major-league history to reach this career milestone
http://www.dukesnider.com/
1964 - No. 1 Billboard Pop Hit: "Chapel of Love," The Dixie Cups.
1965---Top Hits
Back in My Arms Again - The Supremes
Crying in the Chapel - Elvis Presley
I Can't Help Myself - The Four Tops
What's He Doing in My World - Eddy Arnold
1965---Paul McCartney records "Yesterday."
1973---Top Hits
My Love - Paul McCartney & Wings
Frankenstein - The Edgar Winter Group
Pillow Talk - Sylvia
You Always Come Back (To Hurting Me) - Johnny Rodriguez
1974 - No. 1 Billboard Pop Hit: "Billy, Don't Be a Hero," Bo Donaldson & the Heywoods.
1975 – The singing group " America " reached the top spot on the "Billboard" pop music chart with "Sister Golden Hair". The group had previously (March, 1972) taken "A Horse With No Name" to the number one spot. The trio of Dan Peek, Gerry Beckley and Dewey Bunnell had received the Best New Artist Grammy in 1972. " America " recorded a dozen hits that made it to the popular music charts in the 1970s and 1980s. Though number one, "Sister Golden Hair" did not qualify for gold record (million-seller) status.
http://www.biscuitfan.com/america/index.htm
http://www.harvestcomm.net/america/
http://www.danpeek.com/frameset.htm
http://www.rockandrollusa.com/America.htm
http://www.rockandrollusa.com/horsewithnonameamericadewey.htm
http://axisid.com/catsmeow/horse.htm
http://www.biscuitfan.com/america/song/song056.htm
1979- Giant first baseman Willie McCovey hits his 513th round tripper establishing him as the NL all-time left-handed HR leader.
1981---Top Hits
Bette Davis Eyes - Kim Carnes
Stars on 45 medley - Stars on 45
Sukiyaki - A Taste of Honey
What are We Doin' in Love - Dottie West with Kenny Rogers
1987 - Thirty-two cities in the central U.S. reported record high temperatures for the date. The high of 97 degrees at Flint , MI , tied their record for June, and the high of 101 at Milwaukee WI marked their first 100 degree reading in 32 years. Thunderstorms brought much needed rains to South Texas, drenching McAllen with 3.2 inches in one hour. A thunderstorm soaked the town of Uncertain with 2.3 inches of rain in one hour.
1987 - No. 1 Billboard Pop Hit: "Head to Toe," Lisa Lisa & Cult Jam.
1988 - Thirty cities in the eastern U.S. reported record high temperatures for the date
1989---Top Hits
Wind Beneath My Wings - Bette Midler
I'll Be Loving You (Forever) - New Kids on the Block
Every Little Step - Bobby Brown
Better Man - Clint Black
1991 - "Robin Hood: Prince of Thieves" opened, collecting $25.63 million from audiences at 2,369 U.S. theaters. Kevin Costner is Robin of Locksley, Morgan Freeman plays Azeem, Mary Elizabeth Mastrantonio is Marian, Christian Slater stars as Will Scarlett, and Alan Rickman (Lethal Weapon) played the Sheriff of Nottingham.
1993-The first Jewish woman to serve on the Supreme Court was Ruth Bader Ginsburg of the U.S. Appeals Court for the District of Columbia, nominated by President William Jefferson Clinton. She filled the seat vacated by Justice Byron White. She was the second woman to serve on the Supreme Court and the first Jewish justice since the resignation of Abe Fortas in 1969.
1994-The New York Rangers defeated the Vancouver Canucks, 3-2, in Game 7 to win the Stanley Cup for the first time since 1940. The Rangers, led by Mark Messier, Brian Leetch and Mike Richerter, ended a long drought that included defeats in the finals in 1950, 1972, and 1979.
1995 - Michael Jackson and wife, Lisa Marie Presley-Jackson, were interviewed by Diane Sawyer on ABC-TV's "PrimeTime Live". Sawyer questioned the couple about how they got to know each other, how Michael proposed, etc. The hour-long interview, at the old MGM set at Sony Pictures, Hollywood , was seen by 60 million U.S. viewers and millions more around the world. Selected snippets from the interview: Do they have sex? "Yes, yes, yes." Prenuptial agreement? "Yes." Regarding accusations of child molestation? "Never ever! I could never harm a child, or anyone. It's not in my heart. It's not how I am. I am not even interested in that!" Would Michael like to be as black as he once was? "I love black."
1996-San Francisco celebrates its beloved newspaper columnist, and a good friend of mine (and many others, too): Herb Caen.
http://www.sfgate.com/cgi-bin/article.cgi?file=/g/a/1996/06/14/ellar960614.DTL
1998-The Chicago Bulls defeated the Utah Jazz to win their third consecutive NBA championship. This was their second "three-peat." They had accomplished this feat the first time with wins in 1991, 1992 and 1993.
2005-- Behind Chuck Klein (683rd game - 1933) and Lloyd Warner (686th game - 1932), Ichiro Suzuki (696th game -2005) becomes the third fastest big leaguer player to reach the 1000-hit mark. The 31-year old Mariners outfielder also holds the record in Japan for being quickest player to attain a 1,000 hits, reaching the milestone in 757 games.
NBA Finals Champions This Date
1987--- Los Angeles Lakers
1990--- Detroit Pistons
1992-- Chicago Bulls
1995--- Houston Rockets
1998-- Chicago Bulls
Stanley Cup Champions This Date
1994 New York Rangers
--------------------------------------------------------------


Baseball Poem
WHEN THE YANKEES WIN
WHEN THE YANKEES WIN IT'S PURE DELIGHT,
I CAN SUFFER FOOLS I CAN SLEEP AT NIGHT
I CAN SIT IN TRAFFIC ULCER-FREE
EVEN LETTING CARS IN FRONT OF ME.
I'VE A QUICKER STEP I'VE A BROADER GRIN
WHEN THE LAST OUT'S MADE AND THE YANKEES WIN.
ELOQUENT I WAX, CLEVERLY I PUN
WHEN WE'VE GOT TORONTO ON THE RUN
AND WHEN THE RED AND WHITE SOX SLIP,
MY HEART FILLS UP WITH FELLOWSHIP
AND PRIDE AS I REFLECT THEIR GLORY,
WATCHING SCOTT PUNCH FISTS WITH TORRE.
JOYFULLY I'M GIVING THANKS
AS EMPTY BASES FILL WITH YANKS
AND WHEN AND IF THEY'RE CLEARED BY JETER
STARS ARE BRIGHTER AIR IS SWEETER,
RICH THE COFFEE CRISP THE BAGEL
WINNING GAMES WITH CONE AND NEAGLE.
HOW MY FORTUNES RISE AND FALL
WITH BERNIE, TINO, CHUCK AND PAUL
GOODEN, JUSTICE, JORGE, ROCKET,
PUTTING PENNANTS IN THEIR POCKETS,
EL DUQUE, MARIANO, HILL,
PETTITTE , OH MY HEART BE STILL !
HOW LIGHT THAT HEART, HOW FREE OF CARES
WHEN OUR SHOES TOUCH HOME MORE THAN THEIRS !!
NO NEED FOR THEM TO WIN EACH DAY,
JUST LET THEM WIN ON DAYS THEY PLAY !
Carol P, Yankee Poet Laureate (self-proclaimed)
--------------------------------------------------------------

SuDoku
The object is to insert the numbers in the boxes to satisfy only one condition: each row, column and 3x3 box must contain the digits 1 through 9 exactly once. What could be simpler?
http://leasingnews.org/Soduku/soduko-main.htm