Exp. Account Executive
Salt Lake City, Utah
Intermediaries--Background in sales/leasing and/or finance required/credit experience preferred. Salary plus commission. Fax resume: 801-733-2363 or email: clong@acccapital.com


Friday, June 23, 2006
Headlines---
Classified Ads---Asset Management
Monster Trak
Leasing News Major Policy Change
All Leasing News Lists
Lease Agreement/Commitment Letters
Classified Ads---Help Wanted
Mortgage Rates Hit Four Year High
ELA Board Converge on Capitol Hill
Selling Up-by Steve Chriest
"The Great Coach"
ELA O&T Award Finalists
NetSol Clients $5.8BB Pakistan
News Briefs---
You May have Missed---
"Gimme that Wine"
Napa Valley Wine Train
Calendar Events
Today's Top Event in History
This Day in American History
Baseball Poem
SuDoku Puzzle
######## surrounding the article denotes it is a "press release"
-------------------------------------------------------------------------------

Classified Ads---Asset Management
Valenzano Winery, located in the heart of the New Jersey Pinelands, Shamong, NJ *
Austin, TX
20+ years exper. lease/finance. P & L responsibility, strong credit & collection management, re-marketing& accounting. Computers, construction, auto & transportation. Both commercial/ consumer portfolios.
Email: kmalone@austin.rr.com
Bloomfield Township, MI
15+ yrs experience asset management and credit analyst. Leadership and training skills. Audited returns, max residual, lease end and resale negotiator.
E-mail: cmcozzolino@msn.com
Boston, MA
10yrs exp structuring/modeling sophisticated lease/ loan products. Expert programmer: customized portfolio mgmt, securitization, economic capital & pricing applications. Available for contract work.
E-mail: lease_structuring@yahoo.com
Chicago, IL
MBA, 15+ years exp. Long history of success in maximizing residual position through outstanding negotiation skills & lease contract management. Third party re-marketing, forecasting etc...
email: jgambla@aol.com
Chicago, IL
2+ Years Exp. Asset Remarketing Transportation/ Medical/Cosmetic Equipment; Superior End Of Lease Negotiation Skills; Comprehensive Buyer Contacts; Available Immediately For Assignment
Email: Lonnie0168@comcast.net
Princeton, NJ
Asset management/credit/collection
20+ years experience in equipment financing. Last five years in Asset Management including remarketing, end of lease negotiations, equipment and market evaluations
E-mail: bgaffrey@earthlink.net
Sausalito, CA
Sr. Corp. officer, presently serving as consultant, fin. service background, M&A, fund raising, great workout expertise, references
Email: nywb@aol.com
Sonoma, CA
20+ years managing/ maximizing residual values, exp. computers/ hi-tech mfg. Excellent negotiation skills. Outstanding 3rd party contacts/buyers. Created deal winning structures-established residual values.
Email: dfeltman@yahoo.com
Wilton, CT
18 years exp. in IT and High Tech leasing industry. Residual forecasting, workouts, off-lease sales, mid-term restructures, auctions, all aspects of remarketing and equipment management.
Email: charrer@hotmail.com
For a full listing of all "job wanted" ads, please go to:
http://64.125.68.91/AL/LeasingNews/JobPostings.htm
To place a free "job wanted" ad, please go to:
http://64.125.68.91/AL/LeasingNews/PostingForm.asp
* http://www.valenzanowine.com/about.php
--------------------------------------------------------------

Monster Trak has been added to the list of other employment web sites, for use both by employers and "students."
http://www.monstertrak.monster.com/
You select the colleges and it is by how many you select, is how the price is determined. You can also choose major university and cities by state. You not only get seniors, but those in graduate school, or those who have gone back to college for education on a specific subject---or someone who is married or is a relative of a person looking.
This is a great place to find an intern. Many companies hire telemarketers or "sales" or "marketing" from here at minimum wage plus commission.
www.adams-inc.com
www.affinitysearch.com
www.bajobs.com
www.BayJobs.com
www.careerbank.com
www.careerpath.com
www.craigslist.org (available in many cities now, use scroll feature)
www.elaonline.com
www.goldenparachute.com
www.Headhunter.net
www.hotjobs.com
www.jobs.net
www.jobsearchusa.org
www.JobSpin.com
www.jobsinthemoney.com
www.lessors.com
www.MarketingJobs.com
www.monitordaily.com
www.monster.com
www.monstertrak.monster.com/
www.Postonce.com
www.RecruiterConnection.com
www.resumeblaster.com
www.vault.com
www.vetjobs.com
www.worktree.com
--------------------------------------------------------------

Major Policy Change 6/23/06
by Christopher Menkin, publisher
In a major policy decision, Leasing News now includes those companies with complaints and poor Better Business Bureau reports on all "business category" lists. Those who were also rejected from the mailing list are now invited to rejoin.
In the past, a company on the Leasing News Bulletin Board Complaint list was excluded, as well as companies with poor Better Business Bureau reports.
In changing this policy, all BBB reports and Leasing News Bulletin Board complaints will be included in the lists. Companies are invited to submit footnote comments on these reports, as well as other information about their company.
"Funders" such as Microfinancial/Leasecomm were originally not included, due to their poor BBB report. Those with recent Leasing News Complaints, such as Trident Leasing, San Jose, California, and American Equipment Financial, Warren, New Jersey would be removed. They now remain.
In addition, information from "The List" and recent news stores printed in Leasing News will also be available as follows:
BBB - Better Business Report
CBB - Leasing News Complaint Bulletin Board
CNI - Current News Information
Search-- There are six years of information, 4075 pages.
Leasing News is the only equipment leasing trade publication with a vast archive section, which is also free. As with all "search engines," the changing of words bring up different findings. In order to save readers time, the searches have already been loaded. For instance, run "Fin Pac," you will find more pages on Financial Pacific than running its name. Readers also still have the ability to customize their searches, too.
"The List," " Mergers, Acquisitions and Changes," has also been incorporated; to trade the evolution of the company since 1998 to the latest quarter of the current year.
The "why" was discussed with the Leasing News Advisory Board regarding this major policy change. One of the criteria that lead to the need for the change was the discovery of several companies already on the list who had developed unsatisfactory Better Business Bureau reports. It would then become a lot of mechanical work to re-check all those listed to keep up-to-date. In addition, companies who had been rejected, their BBB report may have improved. We found several, although it normally takes three years for the changes to occur.
Our original concept was that companies would keep us informed and want to be on the list, especially if we offered to include any information they wanted on the list in their "footnote."
We considered it "free advertising."
We had hoped by listing all the "good guys," readers would question why the company they were seeking to find information on was not on the list. We learned they did not understand our concept.
On our Wednesday, June 21, anniversary I had hoped to include this major policy change, but we had not finished all the lists at that time ( in reality, they are an "on going" feature.) The points in the anniversary statement were: we listen to our readers, we are not afraid to experiment, try new things, and admit when we are wrong, change things when they were not working.
Readers, including consumers ((that is what leasing clients refer themselves as "consumers," not lessees or businesses or even corporations (most are closely held who contacted us)), vendors, funders, and broker/lessors complained when they could not find companies on the list. They did not understand they were purposely left off. The fact that all are not listed, or there is incomplete information on the list, led them to believe it meant the company was overlooked. The concept was lost to the readers.
In discussing the subject, several Leasing News advisors also thought it more fair to list everyone and let readers make up their own minds whether they wanted to do business with a company or not.
It was then decided that if Leasing News were to list all BBB reports that were available, why not list the other information, as Yahoo does on publicly held corporations, such as history and current news. If the concept was to let readers make up their own minds, then let them have all the important information we could find available to them. This is our first attempt at this, and we hope companies listed will made corrections, additions, and help keep the lists current.
I would like to personally thank the advisory board members who participated in this major change in policy and their contribution to the growth of Leasing News.
Leasing News

Chairman, Advisory Board

Bob Teichman, CLP
Teichman Financial Training, Sausalito, CA.

Advisory Board

Bob Baker, CLP.
Wildwood Financial Group, Ellisville, Missouri
Edward Castagna
Nassau Asset Management, Westbury, NY.
Steve Crane, CLP
Bank of the West, Walnut Creek, CA.
Phil Dushay
Global Financial Services, Manhattan, NY.
Steve Gabriel
Porter Novelli-Advanced Tech Division, Campbell, CA
Ken Greene, Esq.
Larkspur, California
Theresa M. Kabot, CLP
Kabot Commercial Leasing, Seattle, WA.
Robert S. Kieve
Empire Bradcasting, San Jose, CA.
Bruce Kropschot
Kropschot Financial Services, Vero Beach, FL.
Fred St. Laurent
SFBI Recruiters, Atlanta, GA.
Andrew Lea, M.A.
McCue Systems, Inc. Burlingame, CA.
Armon L. Mills, CPA
San Diego Business Journal, San Diego, CA.
Dan Pulcrano

Metro Newspapers, San Jose, California

Steve Reid, CLP
Pacific Capital Bank, Santa Barbara, CA.
Shawn D. Halladay
The Alta Group, Salt Lake City, UT
Ginny Young
Brava Capital, Orange, CA.

Publisher/Editor

Christopher "Kit" Menkin
----------------------------------------------------------------

All Leasing News Lists
"The List"
--- Mergers, Acquisitions & Changes
"The Good, the Bad and the Ugly"--
----------------------------------------------------------------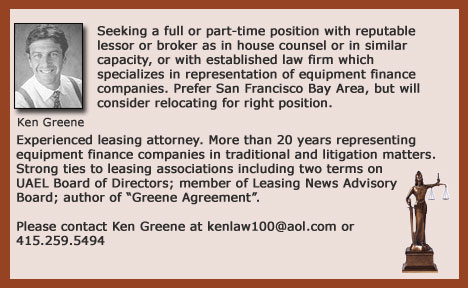 Before entering into considering leasing, an agreement between both parties, those seeking a lease, and those who will either directly provide the lease or the lease company who will do the actual transaction, an understanding needs to be signed by both original parties.

This is for a "master lease," when they will be other schedules, dates of delivery and acceptance, and interim rent is to be imposed on the "funded" portion(s.)

Note: Last sentences about the signatures makes this more a "proposal," than

commitment. If required, these sentences may be removed.

http://two.leasingnews.org/loose_files/Master%20Lease%
20Commit%20Letter.doc

Lease Application Fee Agreement

This is designed for the broker of leasing company to earn a fee and/or expenses should the lease not go together. This is a form that you can make into a template. First use "find, replace" to insert your name. It's purpose is generic, aimed at earning money for your time and expenses if a lease does not move forward.

http://two.leasingnews.org/loose_files/Lease_app_agreement.rtf

Authorization to Find a Lender

This form was designed for use in the State of California, where arranging for a loan requires a license. Real Estate and mortgage brokers may not need a California Financial Lender's License, as well financial institutions. Any third party "agent" does need the license. This may also apply in other states.

You can make a template on this form very easily. It primarily purpose is for real estate secured loans , equipment finance agreements, and "sale/leaseback" type situations.

http://two.leasingnews.org/loose_files/Authorization_to_
find_lender.rtf

The form to allow for specific expenses being developed by Ken Greene,Esq. is in the process of being reviewed by the sponsors, and attorneys Leasing News has contacted.

Here are a list of the sponsors of the Greene Engagement Letter:

schriest@sbcglobal.net
Steve Chriest
Diablo Capital
1710 Les Trampas Rd.
Alamo, California 94507
925-570-5459

bcarlile@********-partners.com
Ben Carlile
******** Partners Incorporate
999 Fifth Avenue, Suite 300
San Rafael, Ca 94901
(415)257-4200

pateb@balboacapital.com
Patrick Byrne
Balboa Capital
2010 Main Street 11th Floor
Irvine, Ca. 92614
949.756.0800

Whawkins@bancpartners.com
Warren Hawkins
Bank Partners
2496 Rocky Ridge Road
Box 43738
Alabama, Ca. 35243
800-456-6639

gsaulter@chaseindustries.com
Gary Saulter
Chase Industries 109 Ottawa Ave.
Grand Rapids, MI 49503
(616) 459-6800

gtrebels@ifccredit.com
Gary Trebels, CLP
8700 Waukegan Road
Suite 100
Morton Grove, IL 60053-2103
(847) 663-6700

tkabot@lease-it.com
Theresa Kabot
Kabot Commercial Leasing
7043 - 12th Ave., N.W.
Seattle, WA 98117
(206) 301-9960

clester@lpifinancial.com
Charlie Lester
LPI Financial Services >
3535 Roswell Road Suite 62
Marietta, GA 30062
800-573-7796

blarsen@leasingpartnerscapital.com
Bruce Larsen
Leasing Partners Capital
1211 Hamburg Turnpike
Wayne, New Jersey 07470
(973)709-0118

mwatkins@gogenevacapital.com
Mark Watkins
Geneva Capital LLC
522 1/2 Broadway Street
Alexandria, MN 56308
800.408.9352

----------------------------------------------------------------


Classified Ads---Help Wanted

Account Executive

Exp. Account Executive
Salt Lake City, Utah
Intermediaries--Background in sales/leasing and/or finance required/credit experience preferred. Salary plus commission. Fax resume: 801-733-2363 or email: clong@acccapital.com


Jr. Analyst
Credit Analyst
Sausalito, CA
To start, $45M-60M per year depending upon experience and qualifications, small office in great community, work w/seasoned
professional; Banking or financial or leasing background required, opportunity to increase skills and knowledge: call Steve Pickens at 415-331-1725

Operations Manager

Operations Manager for growing equipment leasing/broker services co. in Costa Mesa, CA to oversee syndication, docs, & credit functions. Prior leasing experience pref. Salary with benefits. Send resume to: Sarah@Podiumfinancial.com

VP-Manager of Equipment Lease Division
--------------------------------------------------------------

Mortgage Rates Hit Four Year High
Freddie Mac, the mortgage company, reported Thursday that rates on 30-year, fixed-rate mortgages rose to a nationwide average of 6.71 percent, up from 6.63 percent last week.
The housing sector is slowing this year under the impact of rising mortgage rates after five boom years powered by the lowest mortgage rates in decades. Analysts are predicting that sales of new and existing homes will decline by more than 10 percent as higher mortgage rates make home ownership more costly.
Rates on 15-year, fixed-rate mortgages, a popular choice for refinancing, increased this week to 6.36 percent, up from 6.25 percent last week.
Rates on one-year adjustable rate mortgages rose to 5.75 percent, up from 5.66 percent last week and the highest level since one-year ARMs averaged 5.77 percent the week of Aug. 3, 2001.
Rising rates can mean a jump in payments for borrowers using adjustable mortgages. The Mortgage Bankers Association estimates that some $330 billion worth of ARMs will adjust in 2006 and $1 trillion worth will reset by the end of 2007, according to a report on cnn.com.
The mortgage rates cited in the Freddie Mac report do not include add-on fees known as points. The 30-year and 15-year mortgages each carried a nationwide average fee of 0.5 point while the five-year ARM had an average fee of 0.6 point and the one-year ARM had an average fee of 0.8 point.
A year ago, 30-year mortgages averaged 5.57 percent, 15-year mortgages stood at 5.16 percent, one-year ARMs were at 4.23 percent and five-year ARMs averaged 5.05 percent.
The Federal Reserve meeting next week and financial markets now view it as a virtual certainty that the central bank will boost rates for a 17th consecutive time.
--------------------------------------------------------------

ELA Board Members Converge on Capitol Hill
ELTnews
On June 20, ELA Chair-elect Valerie Jester of Brandywine Capital, Immediate Past Chairman Dennis Neumann of BNY Capital Funding and ELA Large Ticket Business Council Member Richard Remiker of Merrill Lynch Capital met with a number of key House Ways and Means members to discuss current issues of interest to the equipment leasing and finance industry. These meetings are part of a concerted effort by ELA's leadership to foster a continuous dialogue with key policymakers on Capitol Hill.
Specifically, the ELA leadership met with Ways and Means members Phil English (R-PA), Dave Camp (R-MI) who serves as Chairman of the Select Revenues Subcommittee and Jerry Weller (R-IL). The topics under discussion ranged from specific issues of concern to the industry such as the recent repeal of the FSC/ETI binding contract grandfather rule for leases to ELA's initiative to repeal the mid-quarter depreciation convention. In addition, these meetings included a specific discussion as to how the industry should position itself as the trade association representing a broad sector of commercial finance.
--------------------------------------------------------------

"The Great Coach"
by Steve Chriest
This is the second in the series of "Good, Great, and Extraordinary coaches."
If it's true that there are too few sales managers who are also good coaches, there are far fewer sales managers who are also great coaches. That makes sense, given the characteristics all great coaches share in common.
The good coach is adept at teaching the fundamentals of his or his discipline. In sales, the great coach, like the good coach, is an effective teacher who teaches and reinforces the fundamentals of selling. What makes them great coaches is their knack for recognizing talent and potential in their team members that many others simply don't see, their ability to motivate their sales teams, and their communication skills.
A sales manager who is also a great coach, for example, may see that while a team member is reluctant to prospect for new business, he exhibits great ability to capitalize on any opportunity that comes his way.
The manager who is a great coach knows that it is folly to manage to a person's weaknesses. Great coaches know the words of Sun Tze, who wrote in The Art of Wa r: "Do not charge people to do what they cannot do. Select them and give them responsibilities commensurate with their abilities."
The sales manager who acts as a great coach will figure out the strengths of each team member and help them to develop these strengths to improve their performance.
The sales manager who is a great coach is also a master motivator. Once he uncovers the key, personal drivers of each team member, he is a master at using that information to steer the team members toward great performance. He knows that when people sense a clear, personal benefit in any activity, they are likely to pursue that activity with vigor, enthusiasm and determination.
Finally, like all great coaches, the sales manager who is a great coach is a great communicator. He is always brutally honest with the members of his team. His assessments of individual performances, and his evaluation of a team member's potential, are direct, honest and emphatic. Recognizing the paramount importance of the team, and respectful of individual needs, he clearly communicates what contributions are needed from each team member, and the consequences of failure to deliver those contributions.
Next week we will examine what extraordinary coaches share in common and what sales managers can do to develop themselves into extraordinary coaches of their sales teams.
Copyright © 2006 Selling Up TM . All Rights Reserved.
About the author: Steve Chriest is the founder of Selling Up TM ( www.selling-up.com ), a sales consulting firm specializing in sales improvement for organizations of all types and sizes in a variety of industries. He is also the author of Selling Up , The Proven System for Reaching and Selling Senior Executives. You can reach Steve at schriest@selling-up.com .
To view the first in the series, "The Good Coach:"
http://www.leasingnews.org/Selling_Up/Good_Coach.htm
---------------------------------------------------------------
### Press Release ###########################

ELA O&T Award Finalists Preview Success During International Decision Systems' User Conference, Executive Forum
MINNEAPOLIS, Minn. – -- International Decision Systems hosted more than 40 industry organizations for two days of training during its user conference completed last week. In addition, the senior officers of 12 organizations joined together for ExecConnect 2006 an informational exchange about the trends and issues shaping the leasing and asset finance industry. As part of this exchange, BB&T Leasing and CoBank participated in the general session and offered insight into how the use of IDS products helped them achieve operational successes now nominated for the 2006 Equipment Leasing Association Operations and Technology Excellence award.
The award, to be announced on June 22, recognizes industry organizations for breakthrough achievements that drive growth with a demonstrated innovative use of technology to improve operations, enter new markets and build overall ROI.
"ExecConnect 2006 was an opportunity to discuss the key market imperatives impacting the leasing industry today," says Todd Davis, President and Director of International Decision Systems. "We're all challenged by the same collective issues – top-line growth, efficient operations and compliance. This leadership group engaged our attendees as they discussed the dynamics shaping their businesses and our collective future."
International Decision Systems annually hosts its client organizations for a user conference. The 2006 event known as ConnectionPoint 2006 – Partners in Progress included extensive training on InfoAnalysis™, Rapport™, LeaseEnterprise®, InfoLease® and ProFinia™. More than 140 representatives from across the United States and Australia attended. In addition, the company offers year-round training opportunities at its headquarters and at client sites worldwide as part of International Decision Systems University.
About International Decision Systems
International Decision Systems is the global leader in developing asset finance portfolio management software and services. Headquartered in Minneapolis, Minnesota, International Decision Systems also has offices in London, Sydney, Singapore and Bangalore, India. International Decision Systems offers the largest and most experienced global development, consulting, implementation, and technical support teams in the asset financing industry. For additional information about International Decision Systems, visit www.internationaldecisionsystems.com or call 1-866-465-9393 or 1-612-851-3200 for the global headquarters or the European office at ++44 (0)1256-302000.
Sites of Reference:
http://www.idsgrp.com
CONTACT:
Jody Hinkle
International Decision Systems
Phone Number: 612-851-3436
Fax Number: 612-851-3207
E-mail: jhinkle@idsgrp.com
### Press Release ###########################

NetSol Technologies' Largest Client to Invest $5.8 Billion to Spur Growth in Pakistan
CALABASAS, CA –– NetSol Technologies, Inc. (NASDAQ:NTWK), a developer of proprietary software applications and provider of information technology (IT) services, released comments today from its Chairman, Najeeb U. Ghauri. Mr. Ghauri issued this statement concerning the recent announcement, as reported by the World News Network, that Daimler-Chrysler and Coastal Group of UAE intend to invest more than $5.85 billion in Pakistan through the production of Mercedes-Benz commercial and military trucks, buses and Mercedes automobiles of various types in an effort to create a "vendor industry" in the region.
"This tremendous investment by NetSol's largest customer, Daimler-Chrysler, along with the Coastal Group of UAE, stands to create thousands of jobs and underscores the global business community's commitment to an already burgeoning business environment in Pakistan," commented Ghauri. "We are pleased to see our business partners support Pakistan's economic growth and look forward to our continued success and profitable relationship with Daimler-Chrysler moving forward."
According to Umar Ahmed Ghumman, Minister of State for Privatization and Investment, and Chairman of the Board of Investment (BoI), speaking at a news conference at the Parliament House in Pakistan, the investment group will set up its manufacturing plant near Shaikhupura on 1,200 acres of land provided by the government. The investment is expected to create upwards of 5,000 jobs directly and indirectly. Once production commences, the investment group would export products to neighboring countries as well as to the Persian Gulf region, which would earn billions of dollars in foreign exchange for Pakistan.

NetSol has a global frame agreement with DaimlerChrysler Services ("DCS"), qualifying NetSol as a preferred vendor to DCS in 40 plus countries where DCS operates. DCS is a division of Daimler-Chrysler, the world's fifth largest carmaker with revenues exceeding $130 billion, and a workforce of more than 420,000 employees.
About NetSol Technologies, Inc.
NetSol Technologies is an end-to-end solution provider for the lease and finance industry. Headquartered in Calabasas, CA, NetSol Technologies, Inc. operates on a global basis with locations in the U.S., Europe, East Asia and Asia Pacific. NetSol helps its clients identify, evaluate and implement technology solutions to meet their most critical business challenges and maximize their bottom line. By utilizing its worldwide resources, NetSol delivers high-quality, cost-effective IT services ranging from consulting and application development to systems integration and outsourcing. NetSol's commitment to quality is demonstrated by its achievement of both ISO 9001 and SEI (Software Engineering Institute) CMM (Capability Maturity Model) Level 4 assessment. For more information, visit NetSol Technologies' web site at www.netsoltek.com.
CONTACTS
NetSol Technologies:
Najeeb U. Ghauri, Chairman, or Tina Gilger, CFO
818.222.9195
najeeb@netsoltek.com

Sites of Reference:
http://www.netsoltek.com
http://www.mccloudcommunications.com

[headlines]
### Press Release ###########################
--------------------------------------------------------------

News Briefs----
Oracle Profit Jumps 27 Percent to $1.3B
http://www.internetnews.com/bus-news/article.php/3615626
Calif. bank City Nat'l cuts '06 profit view again
http://today.reuters.com/investing/financeArticle.aspx?type=bondsNews&
storyID=2006-06-22T210935Z_01_WEN9977_RTRIDST_0_FINANCIAL-
CITYNATIONAL-OUTLOOK-URGENT.XML
Plan for two-tiered Internet puts higher price on speed
http://seattletimes.nwsource.com/html/businesstechnology/
2003077532_netrules22.html
S.J. mayor and top aide indicted in Norcal scandal
http://www.mercurynews.com/mld/mercurynews/news/special_packages/
norcal/14878781.htm
Feds seize reporters' communications in BALCO probe
http://www.contracostatimes.com/mld/cctimes/14871467.htm
CBS to Send Couric on Tour to Meet Viewers
http://www.accessatlanta.com/entertainement/content/shared-gen/
ap/TV/TV_Couric_Tour.html
---------------------------------------------------------------


You May have Missed---
Americans are sore losers
http://www.contracostatimes.com/mld/cctimes/14882031.htm
----------------------------------------------------------------


"Gimme that Wine"
Great Port Review—great highlights to this area which I have visited, too. Traveling the old river road, not for tourists, are both dangerous and fun for an American driver.
http://www.wineloverspage.com/port/tourofduty.phtml
Wine.com raises $12 million more -- to try seventh time lucky
http://www.siliconbeat.com/entries/2006/06/21/winecom_raises_12_
million_more_to_try_seventh_time_lucky.html
Francis Ford Coppola buys Madrona Manor-great rest. B&B
http://www1.pressdemocrat.com/apps/pbcs.dll/article?AID=/20060622/
NEWS/60622017/1033/NEWS01
The Best Sommelier of Europe 2006 is Norwegian
http://www.drinksmediawire.com/afficher_cdp.asp?id=417&lng=2&lg=UK
Wine Prices by vintage
http://www.winezap.com
http://www.wine-searcher.com/
US/International Wine Events
http://www.localwineevents.com/
Winery Atlas
http://www.carterhouse.com/atlas/\
Leasing News Wine & Spirits Page
http://two.leasingnews.org/Recommendations/wnensprts.htm
--------------------------------------------------------------

Restaurant Review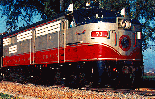 Napa Valley Wine Train
"YOUNTVILLE, CA, (April 10, 2001) - Napa Valley Railroad owner Vincent DeDomenico and his wife Mildred can proudly break ground in Yountville to begin regular shuttle service and expand the Napa Valley Wine Train Luncheon Excursion Packages after completing many years of various governmental processes."
This is the Napa Valley Wine Train's official website:
http://www.winetrain.com/ .
The Napa Valley Wine Train is a dining extravaganza in Napa Valley. You can even buy wine on-line . We have had some wonderful lunches and dinners on the train. Also worth visiting other sites in City of Napa about wine.
I am a great train fancier, members of the California Trolley and Railroad Association Board of Directors, so to me, it is having good wine, good food, and a train ride, run by our master Chaine des Rotissereur, Vincent DeDomenico, Chancelier des USA Honoraire Membre, Conseil d' Honneur (Paris.) He is a very gracious host, and we have been among the guests invited to he and his wife's home.
His son Vincent DeDomenico, Jr., runs the day-to-day operation of the wine train.
http://www.winecountryliving.com/lifesty3/train4.htm
http://www.winetrain.com/wtginfo_history.html
http://www.winecountryliving.com/lifesty3/train.htm
http://www.sfgate.com/cgi-bin/article.cgi?file=/chronicle/archive/
2002/11/22/NB43114.DTL
(For other reviews: please go here:
http://two.leasingnews.org/Recommendations/rstrnt.htm 0
----------------------------------------------------------------

Calendar Events This Day
Denmark: Midsummer Eve
Celebrated all over the country with bonfires and merrymaking
Estonia: Victory Day
National holiday. Commemorates victory against Germany in 1919.
Let it Go Day
Whatever it is that's bugging you, drop it. It's only eating away at you and providing another positive.
www.wellcat.com
Luxembourg: National Holiday
Official birthday of His Royal Highness Grand Duke Jean in 1921, celebrated as Luxembourg Independence Day.
Midsummer Day/Eve Celebrations
Celebrates the beginning of summer with maypoles, music, dancing and bonfires. Observed mainly in Northern Europe, including Finland, Latvia and Sweden.
Take Your Dog to Work Day
A day to celebrate the great companions dogs make and to encourage adoption from animal shelters. Annually, the first Friday after Father's Day.
www.petsit.com
United Nations: Public Service Day
The Assembly designed June 23 of each year as United Nations Public Service Day. It encouraged member states to organize special event son that day to highlight the contribution of public service in the development process. www.un.org.
Typewriter Day
First US typewriter was patented by Luther Sholes
----------------------------------------------------------------

Today's Top Event in History
1902- Volcano Springs, California hit a high temperature of 129 degrees. This is the highest temperature ever recorded in the United States during the month of June. It was 104 degrees yesterday at Los Gatos, California, where I work. The air conditioning could not keep up and when the office hit 83 degrees at 3pm, we closed up and all went home for a cool one.
----------------------------------------------------------------

This Day in American History
1611 - English navigator Henry Hudson, famous for attempting to find a route from Europe to Asia via the Arctic Ocean, was set adrift in Hudson Bay by mutineers on his ship Discovery; he was never seen again.
1683 - Chief Tamanend of the Leni-Lenape tribe and William Penn signed a friendship treaty at Shackamaxon, near what is now the Kensington district of Philadelphia, Pennsylvania. The French philosopher Voltaire, an admirer of Penn, hailed this as "the only treaty between Indians and Christians that was never broken." The Leni-Lenape lived along the shores of the Delaware River and its tributaries.
1810 --John Jacob Astor organizes Pacific Fur Co (Astoria, Oregon)
1845-- A special session of the legislature of Texas voted in favor of annexation by the United States. For almost ten years, Texas had been an independent republic. The leaders of the republic first voted for Texas to be annexed in 1836, soon after it gained independence from Mexico, but the U.S. Congress was unwilling to admit another state which permitted slavery. Sam Houston, military commander during the Texas War for Independence from Mexico and the first President of the Republic of Texas, had been a strong advocate of annexation. This site has a rare photograph of Houston.
(lower half of http://memory.loc.gov/ammem/today/jun23.html )
1860-The Secret Service was established by the federal government under the Treasury department to suppress the counterfeiting of U.S. coins, and by later legislation, of paper money and securities. After the assassination of President Abraham Lincoln, the Secret Service was given the duty of guarding the president. Special agents are charged with protecting the president, and his immediate family, the vice president, the president-elect, the vice president-elect, former presidents and their wives, the widows of former presidents unless they remarry, minor children of former presidents until they reach 16, major presidential and vice-presidential candidates, visiting heads of foreign governments, and official government representatives performing special missions aboard. The Federal Bureau of Investigation was created in 1908 under the Department of Justice to supplement the work of the Secret Service.
1860 - Congress established the Government Printing Office.
1865- The last formal surrender of Confederate troops took place in the Oklahoma Territory. Confederate Brigadier General Waite, also a leader of the Cherokee nation, surrendered his command of a battalion of American Indians.
1868 - Publisher and politician Christopher Latham Sholes received a patent for a prototype of the type writer. The device became know as a "blind-writer" as its design prevented easy viewing of the typed characters. Sholes's invention eventually led to the manufacturing of the first type writer.
1889-The first Medal of Honor awarded to an African-American soldier in the Spanish-American War was issued to Private George Henry Wanton, Troop M., 10 th U.S. Cavalry, who voluntarily went ashore at Tayabacoa, Cuba on June 30, 1898, "in the face of the enemy and aided in the rescue of his wounded comrades, this after several previous attempts at rescue had been frustrated.
http://www.arlingtoncemetery.net/ghwanton.htm
http://www.homeofheroes.com/gravesites/arlington/wanton_george.html
1894 -- Alfred Kinsey entomologist/sexologist author was born in Hoboken,New Jersey.
http://www.indiana.edu/~kinsey/about/kinseybio.html
1902- Volcano Springs, California hit a high temperature of 129 degrees. This is the highest temperature ever recorded in the United States during the month of June.
1911-Tenor Sax player Eddie Miller, born New Orleans, LA.
http://www.answers.com/topic/eddie-miller-jazz-artist
1913-Birthday of singer Helen Humes, best known for singing with the Count Base band, more Louisville, Ky.
http://www.womeninkentucky.com/site/music/humes.html
http://www.ddg.com/LIS/InfoDesignF96/Ismael/jazz/1930/humes.html
http://www.vervemusicgroup.com/artist.aspx?aid=4882
1923-Jazz arranger/composer George Russell born Cincinnati, OH
http://www.georgerussell.com/gr.html
1925-Alto/Baritone Sax player Sahib Shihab, born Savannah,GA
http://www.harlem.org/people/shihab.html
http://www.allaboutjazz.com/php/article.php?id=1477
1927-Birthday of Robert Louis "Bob: Fosse, born at Chicago, IL. The son of a vaudeville singer, he began his show business career at the age of 13. He was the only director in history to win an Oscar, an Emmy and a Tony for his work. As a choreographer he was known for his unique dance style that focused on explosive angularity off the human body in its movements. His body of work included the plays Pippin, Sweet Charity, Pajama Game, Chicago and Damn Yankees. His films include Cabaret, Lenny and the autobiographical All that Jazz. Fosse died September 23,1987, at Washington, DC
http://memory.loc.gov/ammem/today/jun23.html
1929-Birthday of June Carter Cash, Grammy Award-winning country singer with husband, Johnny Cash, and songwriter.
1931---Spaniard Lili De Alvarez broke with tennis tradition by showing up for her match at the Wimbledon championships wearing not the customary skirt and stockings, but shorts! Actually, her outfit was more like trousers, quite baggy and falling to her calves. She didn't win the match, but her fashion statement opened the door for women athletes to dress more practically during competition.
1933-- The longest running and most popular radio show "The Breakfast Club" began with Don McNeil, eventually carried by 400 affiliates and tickets to attend were months in waiting. The hour-long radio show included celebrities who would visit. The shows popularity, however, stemmed mainly from regular features such as "Memory Time, when McNeil read poems and letters from listeners. During World War II, "Prayer Time" was started. McNeil's "Call to Breakfast, " which was announced every 15 minutes invited listeners to get up and march around the breakfast table.
1938-- Marineland opens in Florida-1st aquarium
1940- Norma Rudolph birthday, former polio victim who became the world famous track star, winning three gold medals in the Olympic Games.
1940-Birthday of country singer Diana Trask, born in Melbourne, Australia. Originally a pop vocalist, she was a regular on Mitch Miller's "Sing Along With Mitch" TV show after moving to the US in 1959. After returning to Australia and raising a family, Trask returned to the US in the late '60s and turned to country music. She had hits with "I Fall to Pieces" in 1969 and "Beneath Still Waters" in 1970. Trask went back to Australia in 1975.
1941 - At 23 years old, Lena Horne recorded "St. Louis Blues" for Victor Records, launching her illustrious singing career in the process. She continued performing well into her 60s.
1944 -A killer tornado outbreak occurred in Ohio, West Virginia, Pennsylvania, and Maryland with 3 F4 tornadoes responsible for most of the death and destruction. Shinnston, West Virginia was leveled with 100 people killed. A total of 154 people were killed and 966 were injured in this outbreak. Up to this time, damaging tornadoes were not believed to travel across mountainous terrain.
1945 - Japanese commander Lt. Gen. Ushijima committed suicide at Okinawa, site of the bloodiest battle of the Pacific theater of World War II; 234,183 people were officially recorded as killed in the battles.
1947 - U.S. Congress passed the Taft-Hartley Act, regulating union administration and prohibiting closed shops.
1950--Top Hits
My Foolish Heart - The Gordon Jenkins Orchestra
(vocal: Eileen Wilson)
Bewitched - The Bill Snyder Orchestra
The Old Piano Roll Blues - Hoagy Carmichael & Cass Daley
I'll Sail My Ship Alone - Moon Mullican
1951 - No. 1 Billboard Pop Hit: "Too Young," Nat King Cole.
1954--- 122ø F (50ø C), Overton, Nevada (state record)
1955 - After the debut of "Three for Tonight" on CBS, Harry Belafonte became a popular television star. Before bringing his show to television, Belafonte had been touring with it.
1955 - Walt Disney's "Lady and the Tramp," the first animated feature filmed in CinemaScope, opened in theaters.
1956- "Stranded in the Jungle" by the Cadets was released. It reached number 15 on the Billboard Hot 100 and remains a favorite oldie.
1958--Top Hits
All I Have to Do is Dream - The Everly Brothers
The Purple People Eater - Sheb Wooley
Hard Headed Woman - Elvis Presley
Guess Things Happen that Way - Johnny Cash
1963—Outfielder Jimmy Piersall of the New York Mets hit the 100 th home run of his career and celebrated by running the bases facing backwards. Philadelphia Phillies pitcher Dallas Green was not amused.
1965-"Tracks Of My Tears" by Smokey Robinson & The Miracles. The same song will be a hit for Linda Ronstadt in 1976.
1966---Michael Johnson set a world record of 19.66 seconds in the 200 meters at the US Olympic Trials in Atlanta, GA. Johnson erased the previous record of 19.72 seconds, set by Pietro Mennea of Italy on September 12, 1979.
1966 - The film version of Edward Albee's Who's Afraid of Virginia Woolf?, opened in New York. Richard Burton and Elizabeth Taylor were cast in the lead roles, and Taylor later received the Best Actress Academy Award for her performance. The film was also nominated for Best Picture, Best Actor, Best Director, and Best Supporting Actor and Supporting Actress.
1966--Top Hits
Paint It, Black - The Rolling Stones
Did You Ever Have to Make Up Your Mind? - The Lovin' Spoonful
Barefootin' - Robert Parker
Take Good Care of Her - Sonny James
1967-Arthur Conley receives a gold record for his first hit, "Sweet Soul Music".
1968 -- Vietnam becomes the longest war in nation's history.
1970 - No. 1 Billboard Pop Hit: "The Love You Save," The Jackson 5.
1971 - The gripping and controversial film, Klute, starring Jane Fonda and Donald Sutherland, opened in New York City. Fonda later won the Academy Award for Best Actress for her powerful portrayal of a call girl.
1972—President Richard Nixon signed the Higher Education Act of 1972, including Title IX which barred gender discrimination in athletics and all other activities at colleges and university receiving federal assistance.
1972 -- Life magazine publishes photos of South Vietnamese children running from napalm.
1974--Top Hits
Billy, Don't Be a Hero - Bo Donaldson & the Heywoods
You Make Me Feel Brand New - The Stylistics
Sundown - Gordon Lightfoot
This Time - Waylon Jennings
1975-Jefferson Starship release their album, Red Octopus.
1979 ---The Charlie Daniels Band releases "Devil Went Down to Georgia."
1979- Disco singer Donna Summer captured the number one and number three positions on the Billboard Hot 100 chart with "Hot Stuff" and "Bad Girls." She was the first solo entertainer to hold two of the top three positions simultaneously.
1982 -- -117ø F; All time low at the South Pole.
1982 - --Top Hits
Ebony and Ivory - Paul McCartney with Stevie Wonder
Don't You Want Me - The Human League
Rosanna - Toto
Slow Hand - Conway Twitty
1984-Van Halen release their single, "Panama."
1985 - Golfer Arnold Palmer set a senior record when he won his first victory. His victory occurred when he won the Senior Tournament Players Championship by 11 strokes.
1987 - A massive hailstorm hit eastern Colorado causing an estimated 60 to 70 million dollars damage. At La Junta, CO, hail as large as softballs caused 37 million dollars damage.
1988 - Thirty-four cities reported record high temperatures for the date. The reading of 90 degrees at Bluefield, WV, equalled their record for the month of June. The record high of 104 degrees at Billings, MT, was their thirteenth of the month.
1989 ---The movie "Batman" premiers
1990 --Top Hits
It Must Have Been Love - Roxette
Step By Step - New Kids on the Block
Do You Remember? - Phil Collins
Love Without End, Amen - George Strait
1990 - TV Guide selects Arsenio Hall as TV personality of the year
1995 - Los Angeles Raiders media release: "The Raiders organization has chosen to relocate to Oakland." In a deju-vu-all-over-again kind of situation, Raiders owner Al Davis made the decision to take his team back to where it had come from. And the Raiders sued the NFL, claiming it forced the team to move by insisting that a second team be allowed to play at a new stadium Davis wanted to build at Hollywood Park in suburban Inglewood. Davis said the other team would have crippled his team financially when it came to selling luxury suites and building fan loyalty. He demanded more than $1 billion for the 'right' to the LA market and for compensation to his team for revenue to be lost because of the failed deal. Davis and the Raiders lost the suit on May 21, 2001. Kimberly Hamilton, forewoman of the 7-man, 5-woman jury said, "I think the key for me was that the Raiders did not have enough evidence to meet the burden of proof." An NFL spokesman said, "The notion that the Raiders 'own' the Los Angeles market also was entirely unsupported by the evidence in this case. The Raiders abandoned Los Angeles when they returned to Oakland in 1995, just as they deserted Oakland in 1982 when they moved to the Los Angeles Coliseum."
1999 - Just two months into his retirement, Wayne Gretzky, "The Great One," was officially elected into the Hockey Hall of Fame. The Canadian owned nearly every significant NHL record and was the league's all-time leader with 2,857 points, 894 goals, and 1,963 assists with four teams. He also held playoff highs with 122 goals, 260 assists, and 382 points among his 61 National Hockey League records.
2000 - John Williams was the first inductee into the Hollywood Bowl Hall of Fame
2003--- Stealing second base at Pacific Bell Park in the 11th inning, Barry Bonds becomes the first player to hit 500 homers and steal 500 bases in his career. The Giants' left fielder may not only be the charter member of the 500-500 club, many believe, including him, he will most likely only member, as no one else may ever reach this plateau.
2005-Making his professional debut, Yakima Bears hurler Ryan Doherty pitches a perfect sixth and seventh, striking out three of the six batters he faces, during a 3-2 loss to the Vancouver Canadians. At 7'1", the right-hander from Toms River, New Jersey, who signed a free-agent contract with Diamondbacks after pitching for Notre Dame, becomes the tallest pitcher in professional baseball history surpassing Jon Rauch who stands a mere 6 feet-11 inches.
--------------------------------------------------------------


Baseball Poem
Play at the Plate
From the book
"That Sweet Diamond "
by Paul B. Janeczko, Carole Katchen (Illustrator)
Some
watch the ball
short hop the wall and
the right fielder-who
can't pick it up fast enough -
finally snatch it
sling it
to the impatient cut-off man,
who throws home
almost before he turns.
Some
watch the runner
barely
toe the inside corner of third,
eyes on
the coach's windmill arm
signaling haste.
All
watch the meeting place:
the catcher begging for the ball
so he can sweep the tag
at the runner beginning
his slide
before the umpire,
holding his mask
behind his back
as casually as a satin heart
of valentine candy,
signals the meeting over,
the runner safe.
Baseball Bonus
The original radio show of Abbott and Costello's, "Who's on First Base."
http://www.abbottandcostello.net/clips/who1st2.wav
--------------------------------------------------------------

SuDoku
The object is to insert the numbers in the boxes to satisfy only one condition: each row, column and 3x3 box must contain the digits 1 through 9 exactly once. What could be simpler?
http://leasingnews.org/Soduku/soduko-main.htm